The maritime community joined in from all over the world to celebrate the first International Day for Women in Maritime on 18 May 2022.
An IMO Symposium (virtual) on "Training-Visibility-Recognition: Supporting a barrier-free working environment for Women in Maritime" heard from nine panelists – seven women and two male allies. They addressed: what type of training supports a barrier-free working environment for women in maritime; how to enhance visibility for women in the workplace/environment; and recognition in the work environment of women's contributions to maritime.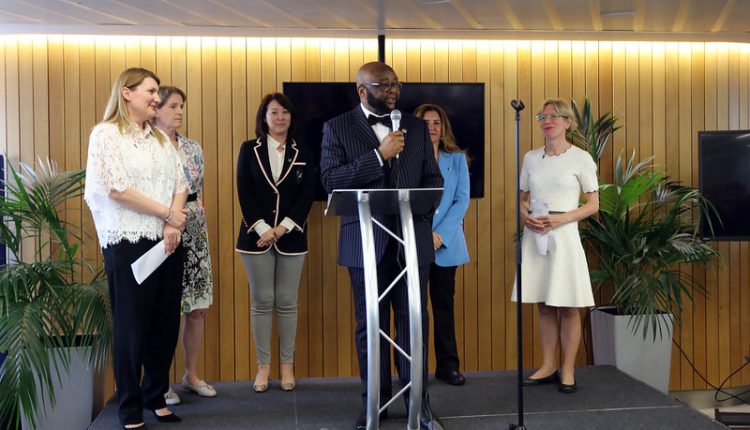 "This is a historic day that has been chosen by IMO Member States to honour the achievements of the many women who contribute so much to the success of our maritime journey together," said IMO Secretary-General, Kitack Lim, in his welcome speech. Addressing the issue of the gender gap in the maritime industry, he emphasized: "we can – and must – do better."
Mrs. Christine Cabau-Woehrel, Executive Vice President, Operations and Assets, CMA-CGM, pointed out the need to provide the right type of training to attract more women into the maritime industry. She emphasized the importance of the compatibility between professional life and personal life.
Ms. Dinah Inape-Omenefa, Manager, Compliance & Safety, Papua New Guinea Maritime Administration, highlighted the importance of mentorship and coaching programmes to encourage women into maritime and support them once in the sector.
For Mrs. Despina Panayiotou Theodosiou, President, WISTA International, the International Day for Women in Maritime allows for a "gender balance check-up". Addressing the preponderance of male-only panels, she said: "There are women with vast amounts of experience – WISTA membership is the proof you need". She said the IMO-WISTA Women in Maritime Survey results illustrated the challenges and also the opportunities.
Engr. Essam Al Ammari Permanent Representative of the Kingdom of Saudi Arabia to IMO, said that "more needs to be done – visibility is an important part of this process."
On the panel on "Recognition", Mrs. Mfon Ekong Usoro, Former Secretary-General, Abuja MoU for West and Central Africa, acknowledged that: "Women have not been accorded due recognition – so we need to recognize the importance of recognition". She said: "We need to embrace a culture of gender diversity and gender inclusiveness."
Mr. Bud Darr, Executive Vice President, Maritime Policy, and Government Affairs, MSC Group, said: "We have to find out what the barriers are (to get more women in maritime) – and tear those barriers down."
The other panelists were: Dr. Michaela Muscat Maritime Attaché, Malta High Commission, London and member, IMOGEN; Ms. Quah Ley Hoon Chief Executive, Maritime & Port Authority, Singapore; and Lt. Paulina Vazquez Contreras Permanent Representative of the Mexico's National Maritime Authority to the MAMLa Network.
IMO's Chief of Staff, Azara Prempeh, moderated the symposium.
The event reached more than 1,500 online participants.
IMO Secretary-General Lim hosted an evening reception at IMO Headquarters to mark the day.
International Maritime Organisation