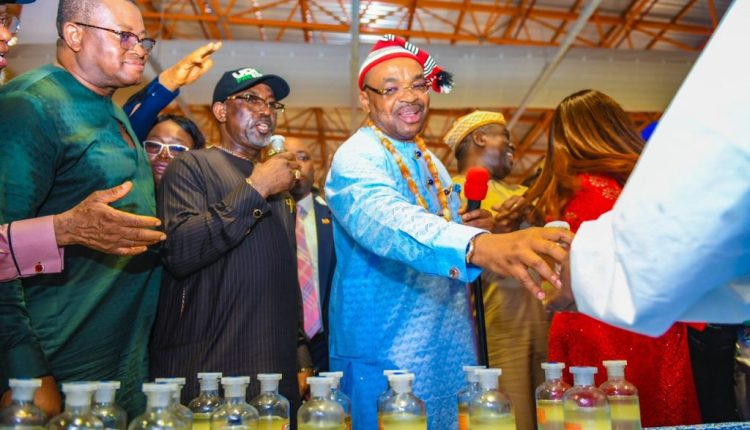 The Akwa Ibom State Government has commissioned what its described as Africa's first digital coconut oil refinery.
Commissioning the factory located in Ikot Akpan Okop village in Mkpat Enin Local Government Area on Friday, former Governor of Benue State, Sen. Gabriel Suswam, commended Akwa Ibom State Governor, Udom Emmanuel for venturing into an area as unique as coconut oil refinery to boost the state's economy.
Suswam said: "The resources shared in Abuja is not enough. You came, saw Akwa Ibom in a state of despair and left Akwa Ibom a prosperous state.
"What you have done in Akwa Ibom has not been done in Nigeria. You are launching Akwa Ibom on a global stage," Suswam said.
In his remarks, Gov. Emmanuel declared the refinery, known as St. Gabriel Coconut Refinery, as first in magnitude and level in Africa.
"In Akwa Ibom, we attracting foreign direct investment," he said.
Emmanuel said the project came through his desire to open more windows for foreign direct investments.
He explained that a barrel of coconut oil goes for $ 1,326, adding that the dwindling crude oil fortunes moved him to explore other economic possibilities, using available resources.
Emmanuel said coconut oil has become a major economic driver in the international market.
The Governor who disclosed the plan to commence an immediate training of indigenous hands to man the refinery, said the facility has a daily capacity to crack one million coconuts.
Emmanuel said the factory would employ no fewer than 3,000 direct and indirect staff.
He pledged to plant two million more coconut stands before exiting office in 2023.
The project execution was flagged off by Governor Udom Emmanuel during a ground-breaking ceremony on May 24th, 2017.
The factory is owned by Akwa Ibom Government which commenced with the cultivation of 2 million stands of  hybrid coconut seedlings on an 11-hectare piece of land.
The News Agency of Nigeria report that the refinery comprises of a factory complex complete with administrative offices, production areas, technical spaces, and industrial fire fighting systems.
"Other facilities within the complex include water treatment plants, effluent treatment plants and residential quarters for technical and managerial staff as well as parking areas for vehicles bringing raw materials.