Navy seeks improved data base of persons prosecuted for maritime crimes in West African sub-region
...Says unemployment, poverty and illiteracy must be addressed
The Nigerian Navy has highlighted the need to develop a comprehensive data base of persons prosecuted for all manner of maritime crimes in the West African sub- region to curtail the continued criminal actions of such persons from place to place.
The Chief of Naval Staff, Vice Admiral Awwal Gambo, made this known on Tuesday in Lagos while delivering a keynote address titled "Protecting Critical National Infrastructure: Tackling Maritime Crimes; Protecting Nigeria's Ports" at the 10th edition of SECUREX West Africa.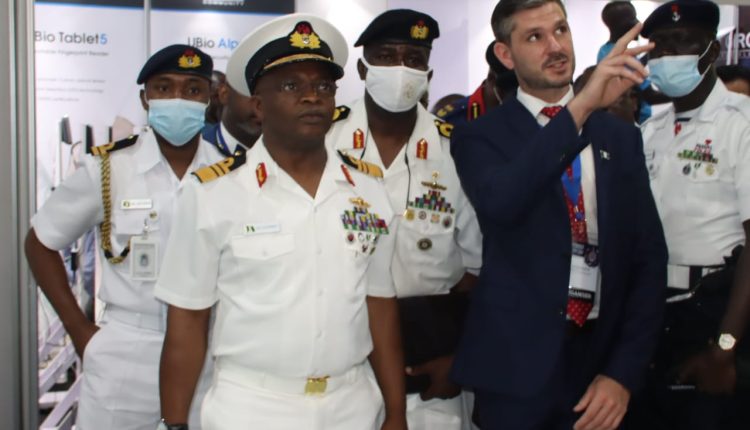 Gambo noted that although the navy through diverse actions had been able to reduce maritime crimes, which made the International Maritime Bureau to exit Nigeria from high-risk piracy countries, new challenges were emerging as a result of the dynamic nature of criminals.
"Despite the NN's effort at ensuring that maritime crimes are reduced, new challenges continue to unfold due to the dynamic nature of criminals. The intensity and trans-national nature of maritime crimes within the region requires a more diligent record and data capturing identity of perpetrators.  "Sadly, lack of adequate data base on identified criminals has allowed perpetrators of maritime crimes to relocate from one country to the other without being identified.
"Some persons who have been prosecuted for maritime crimes, on completion of their jail terms have resumed their criminal activities in other countries unnoticed.
"This gap within the West African sub-region needs to be given more attention and addressed.  Clearly, with improved data base and information sharing on persons prosecuted for maritime crimes, it would be easier to track and apprehend such persons, should they continue to live a life of crime," the CNS said.
On that note, the CNS spoke on the need for the navy to extend its operations to waters of neighbouring countries, to sustain the results being achieved.
He said: "Many piracy/kidnappings are now being perpetrated in neighbouring countries and as far as 100 to 200nm off the coast, even though the perpetrators are alleged to be mostly Nigerians.
"It is therefore necessary to extend NN operations in support of anti-piracy efforts to neighbouring nation's waters. This place additional burden on Nigeria and the NN as more ships and logistics are required for these extended and prolonged patrols.
On remarkable results achieved from the navy's special operations, Admiral Gambo disclosed that: "Within about five weeks of the operation, NN has arrested 117 suspects and 6 vessels laden with various quantities of stolen petroleum products.  Also, within the same period, 51 Illegal Refining Sites have been deactivated, 563 metal storage tanks crushed and 341 dug out pits destroyed.
"Furthermore, economic saboteurs were denied over 17,793,432 L of crude oil, 5,490,670 L of illegally refined AGO, and 129,000 L of DPK.  These products are worth over 10 Billion, Seven Hundred and One Million, Seven Hundred and Ninety-Three Thousand Fifth-Two Naira, Five Kobo (N10,701,793,052.05)."
He, however, noted the need to purposefully address issues of economic lack among the communities of people who as a matter of fact are engaging in those maritime crimes with the hope of making better living.
His words: "Since events at sea would always be driven by activities on land, it would be necessary to address issues of unemployment, poverty and illiteracy, otherwise threats to critical infrastructure especially at sea could remain.  It is envisaged that the threats may mutate in form and structure depending on where the naval forces are most effective."
Speaking on the numerous efforts by the navy in securing the maritime domain and huge economic facilities, the CNS said most of its working actions had been built on special operations carried out in collaborations with other specialised forces.
"The NN collaborates with International Police especially in the area of information gathering for actionable intelligence towards combating piracy and other crimes within Nigeria's maritime domain
"Further engagements between NN and the International Police led to the acquisition of Seek Avenger Biometric System.  The System has the capability to capture biometric data of maritime criminals as well as compare and share such information with the International Police database.
"The NN is actively involved in regional maritime security collaborative engagements under the auspices of the 2013 Yaoundé Code of Conduct, which prioritizes cooperation and information sharing between navies of Economic Community of West African States and Economic Community of Central African States.
"To this end, navies of ECOWAS Zone E, comprising Benin Republic, Nigeria, Togo and the Gendarmeries of Niger Republic endorsed a Memorandum of Understanding for combined patrols of their common maritime domain.
"The Nigerian Navy collaborates with the European Union via the European Union Strategy and Action Plan for the Gulf of Guinea to address maritime challenges and transnational organized crimes in West and Central Africa.
"These engagements involve capacity development of coastal state navies, information sharing, development of legal framework for Maritime Law Enforcement and development of rules and Standard Operating Procedures.  Also, under the European Union Coordinated Maritime Presence in the Gulf of Guinea, the Nigerian Navy collaborates with ships from European Union navies to patrol the Gulf of Guinea towards addressing security challenges. These have in some ways improved presence in the Gulf of Guinea."
Admiral Gambo also talked about the annual multi-national maritime exercises including " Ex OBANGAME EXPRESS and Ex GRAND AFRICAN NEMO " sponsored by the United States of America and France respectively.
He disclosed that in 2021, the Nigerian Navy participated in training exercises with at least seven navies including French, Brazilian, Royal Navy, Pakistani, Italian, US and Canadian Navies.
Admiral Gambo pledged the continued onslaught of the navy against maritime criminals and criminalities.