Nigerian, French navies further collaboration on Gulf of Guinea security
The Nigerian Navy and her French counterpart are collaborating to further strengthen maritime security in the Gulf of Guinea.
Both navies made this known on Thursday when Rear Admiral Jason Gbassa, Flag Officer Commanding, Western Naval Command of the Nigerian Navy, received a team of the French Navy Ship ENSEIGNE DE VAISSÉAU JACOUBET, led by the Chief of Foreign Affairs for the French Navy, Vice Admiral Christophe Lucas.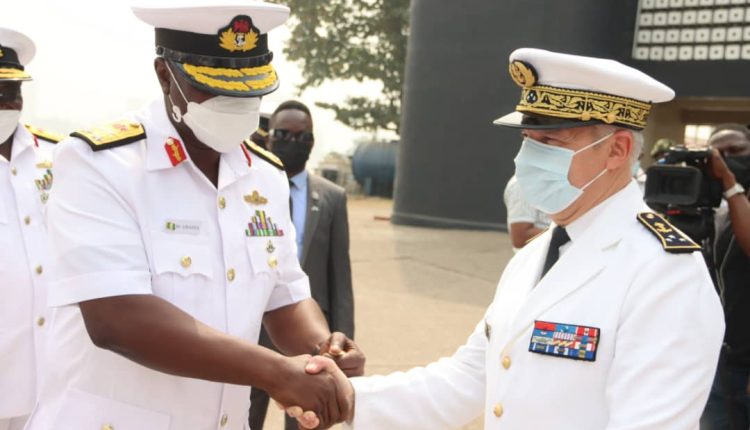 Onepage Africa reports that the French Navy Ship is deployed on maritime interdiction mission in the Gulf of Guinea from 2-4 February 2022, and billed for a port call in Lagos.
Speaking on their mission, Vice Admiral Lucas said the team was in Nigeria to further strengthen an already existing cooperation for maritime domain security, particularly in the Gulf of Guinea.
Lucas said the French Navy had visited Nigeria in November 2021, when they had the Grand African Navy Exercise for Maritime Operations( NEMO).
He said: "We are here for exchange and cooperation; it is about mutual benefits. We have had some exercises between us at sea; doing the Exercise Grand African NEMO."
Speaking on the importance of the French Navy visit, Rear Admiral Gbassa, said it was all for the purpose of ensuring a secure maritime environment for the purpose of ease of trade and other economic activities.
His words: "The maritime environment is a global space where trade and other economic activities pass through. With a secure maritime environment, you can be sure of prosperity of nations. And this trade involves many nations; in this case, you are talking about Nigeria and France. It is to the benefit of both of our nations if our maritime environment is secure.
"When the two navies come together for collaboration, we improve our competencies and are able to contain crimes in our maritime space, which translates into prosperity of both nations."
"We believe this visit is to reinforce the existing cooperation between our two navies and our nations. We look forward to further sustain the maritime security arrangement that we have, especially in the Gulf of Guinea."
The FOC West also talked about hopes of the navy exploring new initiatives, such as training in very technical and relevant areas.
He said: "We are hoping that with this visit, we will explore some new initiatives in the areas of training and capacity building, especially as it concerns our efforts in building capacity in hydrography, along with other related specialisations like cartography.
"You will be of assistance to us in those areas, and our joint operations; for us to carry out review, drawing from the last one we had in November, the Exercise Grand Africa NEMO, that by this meeting we will conduct a review to see areas where we can improve upon. Indeed, the French Navy and Nigerian Navy have a history of cordial relations. It is our hope to continue to build on it."
Speaking of Nigeria as an authority in the West African Sub-region when it comes to defence and security affairs, Gbassa said "So, it gives us great delight that in the position we find ourselves, we should be able to uphold that leadership role in the West African sub-region and by that, relate well with all other of our foreign partners like you."