By Oghoghomena Adediran
Peter Okotor's solo exhibition title 'Table of Paradox' is quite historic with a collection of record players holding reconstructed music album covers of prominent Nigerian artists between 1960 and 1980 that are relevant to the narrative of the work.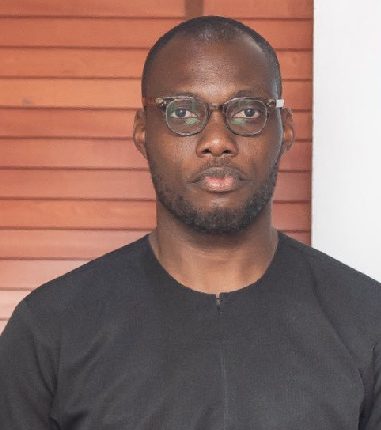 Holding at the Centre for Contemporary Arts Lagos, from October 1-25, the artist has observed the selected album covers and crafted them in his own style without losing the taste of the original.
He has incorporated the album title, name of artist or band, a picture of the artist or the band members, as well as notable words of the artist regarding Nigeria.
There are also framed pictures of particular magazine and newspaper articles and the 1960 Independence Day speech by Sir Abubakar Tafawa Balewa, Nigeria's first Prime Minister.
The artist who is actually having this as his first solo exhibition, also included a quick response code in each set piece which when scanned by a smartphone directs the viewer to a playlist of songs from the albums he has reconstructed.
He shares with us on his journey into arts and his many interests; he trained under the tutelage of Kelani Abass for three years, but has been practicing as an artist for a cumulative period of six years.
Let's talk about the exhibition; it is titled 'Table of Paradox,' can you tell us about the name as it relates to the art pieces you've put together?
Table of Paradox is a body of work that started in 2019. I am intrigued by how interesting it is that we have a lot of information that we have not really paid attention to. Now, looking at it from the post-colonial era of Nigeria, if you look at a basic document that has brought about this body of work — the independence speech by Tafawa Balewa; It was a hope-filled speech that made us see that there was a lot ahead of Nigeria but unfortunately today, it's like we are fighting to become a nation. (Which is) opposite from what is on the speech.
Also, this record player was one of the in-things those times (the 1960s) in the wake of independence in Nigeria. At that time also, highlife music was at its peak, people paid to enter into clubs to listen and dance to highlife. So, this table was one of the in-things people used to play music then. I gave it a name — Table of Paradox; paradox because what you have on the independence day speech and what you have in reality today are two different things.
Is that speech the basis of this body of work?
And several other researches I've made (which are included in the exhibition). You can start your reading from the (an article) Times Magazine December 1960. There was something about Nigeria and about Africa that time that came to life, but unfortunately, today we are fighting a lot of things. So 'Table of Paradox' is juxtaposing the independence speech and the reality on ground today.
Can you describe the medium used?
Record players, reconstructed album covers, acrylic, glue – cut and paste.
How did you make the selection of the music you've highlighted?
I was working with a particular bracket of 1960 to 1980. I picked highlife music, —people who have particularly said something about Nigeria— Highlife, Reggae and Fuji. There's Ebenezer Obey that spoke about austerity measures. Ikenga Super Stars of Africa spoke about Nigeria's Operation Feed the Nation.
Why did you choose to use music to drive this narrative?
I chose music because it's one of things that are close to Africans. We like to dance, we like music; also, because highlife music was an in-thing that time. Music is also a way of knowledge exchange.
What do you hope people take away from this work?
What I'm trying to do is to spark up a conversation first of all. And, to also make people understand that before you can begin any agitation you must understand the root cause of any problem. Before you begin your agitation and protest you must know really where the problem lies.
What challenges did you face while putting together these pieces?
Of course, challenges with sourcing these pieces themselves. These (record players) are not in vogue anymore so I go really far and at a point some people didn't want to let them go, but eventually some people did.
What are some comments you've received about the exhibition so far?
Some people say it's thoughtful, some say it's nostalgic, some say it's incomparable. Basically what I'm trying to do, like I've said, is start a conversation around the serious issue that's in our face — we can't run away from it.
And you started this work in 2019?
Yes, this is another part of the body of work. The first body of work I did was Let's Turn Time on the Table.
Are there more to come?
Possibly! I'm very interested in looking more into music album covers to see what I can glean from them.