Women's International Shipping and Trading Association
(WISTA) Nigeria has shown dynamism in its approach to empowering women in the
sector.


From encouraging young girls to pursue careers in the sector, WISTA has
gone in yet another commendable way to empowering women in fishing.
President of WISTA Nigeria, Mrs. Mary Madu Hamman, said
the association wants to empower women sustainably, to ensure that they are
able to continue in their trade, create wealth and give themselves and their
families the best through what they do for a living.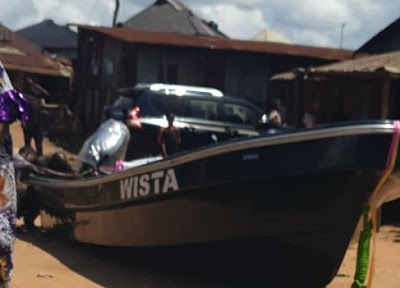 Boat donated to women fishing group in Aguleri, Anambra
The success stories are cutting across communities in
Epe, Lagos State, Oron, Akwa Ibom State, Aguleri, Anambra State, and certainty
on a next outing targeting Enugu State.
In those places, WISTA has given the women fishing
groups, fishing accessories, boats for fishing and ferrying themselves.
Sharing the WISTA story, Hamman said the initiative of
giving boats and fishing accessories has received goodwill, and hopefully, more
communities where women have fishing groups would be reached.
Fishing, from casting the net for a catch, to
processing and selling, women in Nigeria, particularly around the coastal areas
are playing very vibrant roles.
Fishing trade has continued to provide various
small-scale businesses for women, who are able to make a living from it.
The women do a lot maintaining their tools of trade,
which makes this kind of support of fishing materials very worthy at this time.
WISTA has made in its effort, made this
#WorldMaritimeDay very memorable for the fisherwomen in a number of coastal
communities.
The association expresses gratitude to the Nigerian Maritime Administration and Safety Agency(NIMASA) for its support.