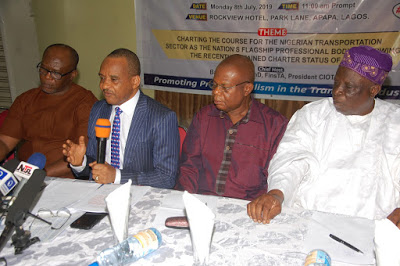 L-R: Deputy National President, 1, The Chartered Institute of Transport Administration of Nigeria, Mr. Darlington Ofor; National President, Dr. Bashir Jamoh; Deputy National President, 2, Prof. Calitus Ibe; and
National Vice President, Dr. Oluropo Owolabi, at a press conference of CIOTA in Lagos
The President of the Chartered Institute of Transport Administration of
Nigeria (CIOTA), Dr. Bashir Jamoh, has said that the signing into law of the
Act establishing CIOTA by President Muhammadu Buhari ushers in a new direction
for the entire transport sector of Nigeria.
Dr.
Jamoh who made this known
during a press conference to brief the media about the current status of CIOTA
and how the institute intends to carry out the functions vested on it by the
Act, stated that the primary aim of the body is to broaden and improve skills
and experience of transport administrators for efficient management of the
sector in the country.
According to the CIOTA President: " This institute is the pioneer
chartered institute in the entire transport sector in Nigeria and in this light
we will continue to set standards of practice in accordance with the law in
order to perform functions that are necessary for the advancement of the
institute and the transport management profession," he said.
Speaking of the strategic objectives that the institute would use to
drive the advancement of the transport industry, Dr. Jamoh said that the
institute would build a reputation of world class transport administration body
by providing top-notch study, training, certification and practice of transport
management in Nigeria.
Commenting further, Jamoh said that the Institute would expand the
transportation practice footprint across Nigeria by becoming a reputable
institute nationwide based on the mandate of the act.
He also said that CIOTA under his watch would establish partnerships and
strategic alliances with target stakeholders which include Federal Ministry of
Transportation and related MDAs in aviation, roads, rail, maritime, pipeline as
well as Transport Labour Unions.
" The six geopolitical zones will be duly covered to lead specific
transportation related initiatives from water in the south-south to rail and
inland in the north-west; roads in the east; north-central in kogi and Edo axis
where a lot of mining is going on. We will also focus on pipelines, cable
transport and aviation in the hub of the south-west."
On what the transport body will do
to the Apapa gridlock, Dr. Jamoh said Apapa is the major gateway to Nigeria's
economy and that the Federal Government has already commenced the process of
tackling the menace by putting palliatives in place.
Jamoh added that CIoTA would contribute its own professional advice as to
what the Government can do to rid Apapa and its environs of the congestion that
is bedeviling the area.
Also in his remarks, the vice president of CIOTA, Dr. Oluropo Owolabi,
said that the Institute was ready to mobilize all within its powers to be able
to impact on the development of the transport sector for Nigeria's economic
benefit.
It would be recalled that President Muhammadu Buhari recently signed into
law the Act establishing the Chartered Institute of Transport Administration of
Nigeria.
This follows the passage of the bill by both chambers of the 8th Assembly
for Presidential Assent.