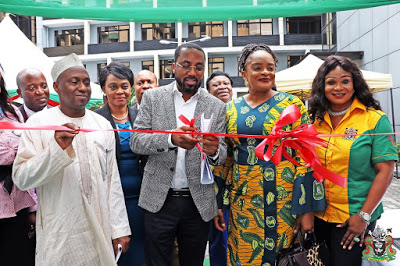 The Rep of the
Managing Director, Nigerian Ports Authority (NPA), the Executive Director,
Finance and Admin. Mohammed Bello-Koko (2nd left), the Executive
Director, Engineering and Technical Services, Prof. Idris Abubakar (left), the
General Manager, Medical Services, Chinwe Abama (2nd right) and the
Assistant General Manager, Occupational Health, Ngozi Obikili (right) during
the Official flag-Off of NPA Workers Wellness Programme at the NPA Corporate
Headquarters in Marina, Lagos.
The Nigerian Ports Authority
(NPA) has flagged off its annual Workers Wellness Programme Fair in which it
encourages staff to pay quality attention to their health and in turn be
productive on their job.
The Managing Director
of the NPA, Hadiza Bala Usman, represented by the Executive Director Finance
and Administration, Mohammed Bello Koko, called staff members to embrace the
theme of the programme "Eat Right, Keep Fit and Enhance Productivity" which is
in line with NPA's core values of
upholding efficiency and producing greater customer satisfaction.
She said that the
programme aimed at encouraging staff to maintain quality health and be able to give
their best in terms of productivity, which can only be driven by healthy
workforce.
In her welcome
address, the General Manager, Medical Services NPA Dr. Chinwe Abanna, encouraged
the NPA officers on the wellness concept "We are what we eat."
She noted that the Management
remained committed to supporting a healthy workforce by providing standard canteens
where the principles of balanced dieting would be made to benefit the staff.
She added that the
greatest resource of any organization is its employees, thus investing in their
health is therefore undeniably crucial to their general performance amongst
schedules and operations.
Whilst appreciating
the management for provision of work tools, canteens and motivation through
capacity building, Dr. Abanna highlighted areas of need including the upholding
of the HSE policy of the organization, as it was last held in 2008.
She said other areas
of relative needs are operational vehicles for oversight functions amongst
others.
Speaking at the event,
Assistant General Manager Occupational Health of NPA, Mrs. Ngozi Obikili, urged
NPA's workers to be healthy at all times as she pointed out that "the critical
lifestyle factors that affect health and wellness are our diet, physical
fitness, thus the need to eat right and keep fit, drawing attention to the fact
that "you are what you eat."
She told
stakeholders that the NPA Managing Director, Hadiza Bala Usman, from inception kept
to a fitness routine of using the staircase every morning and evening than
using the lift, something she said had helped encourage many people along the same
fitness routine.
The annual workers
wellness programme is aimed at encouraging workers keep a wellness
consciousness and act in it accordingly.