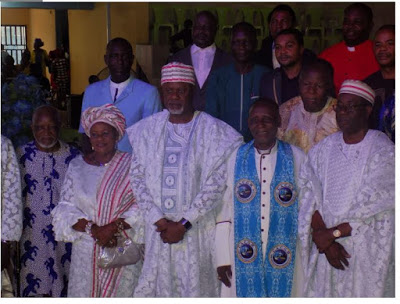 The Ogbeifun family with Ministers of the Church after the thanksgiving service in honour of their mother Deaconess Cecilia Izogie Ogbeifun in Benin City, Edo State
The General Superintendent of Christ Apostolic Church of God
Mission (CACGM)

Benin City, Edo State
, Apostle
Godspower Ogbomwaa
on Sunday resounded the praise of Deaconess(Mrs) Cecilia Izogie Ogbeifun who
passed away on January 9, 2019 at the age of 100 years.
As loved ones assembled for a thanksgiving outing
after the interment of 'Mama Ijesu' as the Ogbeifun Matriarch was called, Ogbomwaa shared the sermon on the legacies of a righteous
parent.


Drawing from the Bible text (1 Kings 2: 1-4) earlier
read by Mama's first son, Shipping Mogul, Engr. Greg Ogbeifun, the Cleric
advised parents to bestow life-long teachings on their children, to help them
understand the demands of a quality life as he emphasized in V 2-3:
"I go the way of all the earth: be thou strong therefore,
and shew thyself a man; And keep the charge of the Lord thy God, to walk in his
ways, to keep his statutes, and his commandments, and his and his testimonies,
as it is written in the law of Moses, that thou mayest prosper in all that thou
doest, and whithersoever thou trunest thyself."
He directed parents to ensure they give their children
sound education and have them begin to support and help out at home as they
grow, something he said would shape children and make them responsible in life.
His words: "Parents must struggle to leave godly
legacies for their children. You will not be afraid if you leave a godly legacy
for your children, because every foundation laid on the rock will never collapse."
Of the late Mama Ogbeifun, the cleric said the
gathering of people for the thanksgiving in Benin City was because Mama
dedicated herself and resources to raising her children right, making it
possible for them to stay focused and become successful in life.
He also referred to her generosity and goodwill of giving
assisitance to the needy, just as she was committed to doing good works in the church.
Ogbomwaa urged parents to toe the path of David who
taught his son Solomon to be a real man, to be hardworking.
Like David said to Solomon, the cleric encouraged
parents to teach their children to honour God in service.