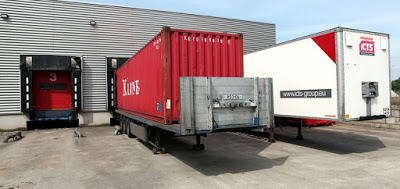 Currently
available only in Texas, Powerloop already is being used by Anheuser-Busch
and others. Uber Freight plans to roll the program out throughout the
country.
·
Dive Insight:
·

Along with
the well-detailed issues of driver shortages, hours of service and ELD mandates,
and other regulatory and safety issues, the sheer cost of operating an
over-the-road truck can be massive. According to

Fleet Owner

, the average cost of a new
tractor-trailer is now estimated to range between $140,000 and $175,000
($110,000 to $125,000 for a new tractor and $30,000 to $50,000 for a new
trailer).
·

As with cars,
leasing might be a more economical route for shippers, especially smaller
carriers. The American Trucking
Associations notes that 91% of interstate carriers have six or
fewer trucks and 97.3% operate 20 or fewer. By leasing, these smaller carriers
can more easily take part in trailer pools, preloaded trailers that asset-based
carriers can pick up and drop off at shipper facilities, said Uber Freight.
·
"Decoupling
the power unit from the trailer allows for loading and unloading to happen
without the driver present, which in turn lowers costs and limits waiting time
for shippers and drivers alike,"

Pike wrote

. "Drivers
running power-loads through trailer pool programs spend less time waiting
around at facilities and more time on the road moving freight."
·

In addition
to time, delays at warehouses and distribution centers also can become a safety
hazard for drivers. In

a January 2018 report

, the U.S.
Department
of Transportation's Office of the Inspector General estimated that a 15-minute
increase in average dwell time — the total time spent by a truck at a facility
— increases the average expected crash rate by 6.2%.
·
For the
bottom-line observer, the report estimated that detention is associated with
reductions in annual earnings of $1.1 billion to $1.3 billion for for-hire
commercial motor vehicle drivers in the truckload sector. For motor carriers in
that sector, the estimate was a net income reduction of $250.6 million to
$302.9 million annually.