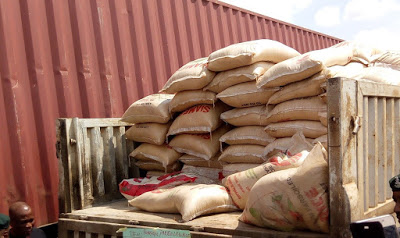 The
Federal Operations Unit

Zone
'
A' of the
Nigeria Customs Service (NCS)
on
Thursday

made public, seizures
of
different
illegal imports with a
duty paid value
(DPV)
of

N2.2 billion.
Briefing newsmen on the seizures made, the Area
Controller, Mr. Mohammed Aliyu, said that the seizures which were made between September 4 and October 3, include 22 exotic vehicles,
11,303 bags of foreign parboiled rice (equivalent of 18 trailers) and 2,410 frozen
poultry products.
Aliyu said also seized

were 853 jerrycans of vegetable oil, 245 parcels of Indian hemp, 4x40ft
containers of unprocessed wood, 2,017 bales of used clothing, 283 cartons of
various pharmaceuticals which were all without NAFDAC Registration number.
A
breakdown of the seized goods showed that the various contraband had a total
DPV of N2.01bn.
Among
the 22 vehicles under detention/seizure were Nine Bullet proof vehicles
including 4 Lexus Jeep LX570 (2016), 3 Land Cruiser Jeeps (2016) and 2 Mercedes
Benz G63 and S550 (2014/2015), 1 Toyota Rav4 (2015), 3 Toyota Hilux (2018) and
2 Toyota Highlander (2018).
Other
vehicles were 1 Toyota Prado (2018) 1 Toyota Land cruiser (2016), 1 Toyota
Corolla, 1 Toyota Fortuner (2017), 1 Toyota Sequoia, 1 Lexus RX 350..
Aliyu
said
:
"These 22
exotic Vehicles alone have a duty paid value of (N1,179,889,909.8) only. While
some of the vehicles were intercepted at Ogere and Ijebu Ode expressway, the
bullet Proof Vehicles were trailed and evacuated from some private residence in
Victoria Island based on credible information
.
"
He
added
that
"The Command also recovered the
sum of N220,025,938.8) from demand notices on vehicles and other general goods
whos importers tried to cut corners at the seaports, airport and border
stations in the guise of false declaration, transfer of value, and shortchange
in duty payment that are meant for the Federal Government of Nigeria, making a
cumulative of N2,237,979,446 within the weeks under review making it a
landslide in recent times
.
"
He said:
"You will agree with me that
smuggling is a global phenomenon, which cannot be curbed entirely
,
but can be
brought to its barest minimum. Let me use this opportunity to praise the
commitment and diligence of the officers and men of the FOU
'
A
'
for
thwarting the antics of dare devil smugglers. I urge you the media and the
general public to join us in the fight against smuggling considering the
economic diversification effort of the Federal Government that is for the good and
wellbeing of all Nigerians
.
"
The
Controller told newsmen that the
seized Indian hemp and the
medicaments would be handed over to NDLEA and NAFDAC for thorough
investigation.
Sending warnings to suspected smugglers, whom he
described as economic saboteurs, the Controller said the Unit would always
advance tactical strategies to make smuggling a regrettable venture for
perpetrators.
He
commended the officers for their
operations,
and mentioned also that the Unit had arrested
28
suspects in connection with the 89 seizures.