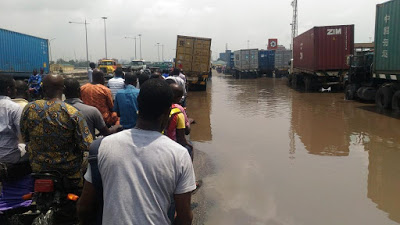 Managing
Director of the Nigerian Ports Authority (NPA), Hadiza Bala Usman, has
urged
the Fed
eral

G
overnment

to

give priority attention to the access roads leading to Apapa ports.
Speaking to newsmen, Bala Usman said it was important that the
government declared an emergency situation regarding the roads.
S
he said, "if, we have identified the Port Access Road in
Apapa and Oshodi all the way to the toll gate as bad portions, and we realise
how much they affect access to the ports, businesses and residents around the
Apapa area, and ultimately the economy of the nation, its means that we must
give emergency attention to every process involved.
"This
includes priority for approvals across board, priority consideration for budget
provision and priority for listing at the Federal Executive Council. I am happy
that the situation has drawn attention at the highest level such that the Vice
President, Professor Yemi Osinbajo, has had to visit Apapa twice in the past
one week. I am confident that something positive will happen this time."
The
NPA MD said it was not true that the traffic congestion was caused by lack of
capacity by terminals to handle the volume of cargo at the ports.


According to her, the things have been worse even last year
2017 when the volume of cargo was lowest.

"At the peak of cargo reception in 2014, cargo throughput was
put at 84,951,927 MT, we did not have the type of congestion that we had in
2017 when we only did 71, 776, 545MT.


This is to show you that the volume of cargo is not the
reason why we have this situation.
"There is no way you can move 90 percent of cargo coming into
the country by road and expect the required level of efficiency. This is
because more than the attendant traffic congestion, you will also see that the
roads cannot be durable because of the heavy tonnage of the trucks. The only
sustainable way for effective cargo evacuation is therefore the use of roads,
rails and water to move cargo into the hinterland."


Bala Usman however insisted that shipping companies must comply
with the directive on the provision of holding bays, while the efforts are being
made to provide trailer parks to check traffic on the roads.
She also said that efforts
were
on
to ensure that other
ports such as Warri, Onne, Port Harcourt and Calabar are patronised.