MV OSANYAMO
MV OSANYAMO owned by
Starz Investment Company Ltd has arrived Cape Town, South Africa, sailing
beautifully on its way to Nigeria, the company Chief Executive, Engr. Greg
Ogbeifun, has made known.
With this development, industry watchers urge the Minister
of Transportation, Rotimi Amaechi, to address the need for the disbursement of
the Cabotage Vessel Financing Fund (CVFF), to boost shipping in Nigeria, which
will ultimately create jobs in the country.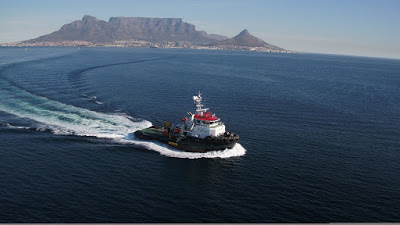 The newly- built
Damen Azimuth Stern Drive Tug 5114, presently the first and largest of its
class, and genuinely generating noteworthy excitements in Nigeria, is primarily
and purposefully built to assist in tanker lifting operations alongside FPSOs
in the Gulf of Guinea, under a contract with Total Exploration & Production
Nigeria limited.