… seek intervention of NPA, Shippers' Council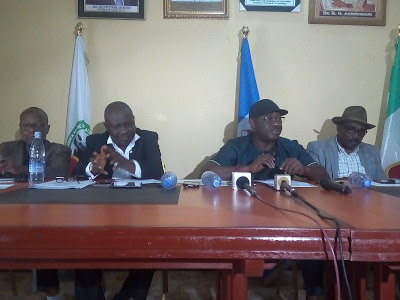 NAGAFF Founder, Dr. Boniface Aniebonam(2nd from Right) addressing newsmen
The National
Association of Government Approved Freight Forwarders (NAGAFF) has threatened
actions against the Port and terminal Multiservices(PTML) over issues of fees
for access card for freight forwarders.
Founder of
NAGAFF, Dr. Boniface Aniebonam, weekend at a news briefing, condemned the
actions of the terminal operator for requesting additional access card into the
PTML terminal after the approved port access card issued by the Nigerian Ports
Authority.
He said the association
would move to "stop the
seeming fraud at the Port and Terminal Multiservices Ltd (PTML) occasioned by
illegal collection of access card fees in their terminal."
Furthering

its resolve to engage the terminal against
the access card fees, NAGAFF

also issued
a statement that it would lead other freight forwarders and customs brokers to
form a coalition to address the issue with PTML.
The association
said the action of the terminal, which it said had been complained of to the Nigerian
Ports Authority (NPA) and the Nigeria Customs Service (NCS), contravened
the policy on ease of doing business and short of the expectations of the
stakeholders.
NAGAFF

said that it was weird

and unlawful for the terminal to impose fees
on

freight agents who are authorised by
law to have access to terminals in the course of doing their legitimate
business.
It emphasized that
"the Hon. Minister of Transport, Hon. Chibuike Rotimi Ameachi, had signed into
effect and directed that access into the port's terminal for the Freight
Forwarders requires CRFFN identification supported by the approval of the Nigerian
Ports Authority.
"It is to our
knowledge that it is only NPA that can collect administrative charge for the
issuance of port passes. It is therefore to the contrary that a terminal
operator should impose an illegal charge with regard to access into the
port. In reality what PTML management is doing is like asking lawyers to
pay fees before they could enter court room."
Calling on the
authorities of the NPA, and the Nigerian Shippers' Council to address the issue
with the terminal for the benefit of ease of doing business at the ports, the
association added that "it is our expectation forthwith that the Enforcement
Unit of Nigerian Ports Authority and Nigerian Shippers' Council should move in
to dismantle the illegal fees being collected by PTML about 10years ago."