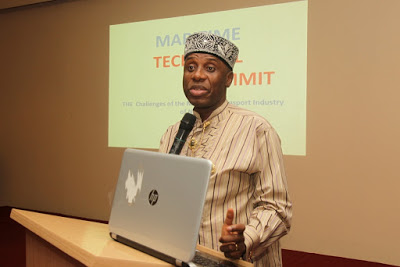 Transportation Minister, Mr Rotimi Amaechi
With concerns about the need to develop river ports in
Nigeria, as a way of expanding the economic revenue sources other than oil and
gas, the Minister of Transportation, Mr Rotimi Amaechi in this interview, said
that investors' interests in the sub-sector had not been encouraging, for the
fact that the business viability of river ports must be backed by interests
from investors who will handle the take-off projects.
The minister also speaks on the proposed Memorandum of
Understanding that is expected to establish a transport university, besides
other industry matters.
What
are the considerations for development of river ports as revenue sources for
government?
We have developed Onitsha river port, what
have they done with it? We are about concluding Baro port, what have these
investors done? We will also finish the one in Lokoja, what will they do?
We have heard these stories of investors
showing interests before. An investor came, and after his study he said it was
not financially viable, but that they were ready to go into it if we would pay
50 per cent of the fund.
I
said the Federal Government would pay 50 per cent of the fund if they could
just show us those who would handle the take-off. We don't want to waste money.
Whichever way it is, if we don't have off-takers, it will be difficult because
such ventures require to be properly managed from the onset.
When they say develop your river port, we
have Onitsha and Baro, why are they not being used? You see government
constructing those things and no businessman wants to take them up.
We have created awareness while they were
dredging the river, because the President went to flag it off. The problem is that
some people give excuses and want to mis-advice government.
Has
the maritime industry audit started yet?
Much as we are keen on doing it, it has to
follow the due process, which is still on it.
Has the ministry started plans on establishing
the Transportation University?
Actually,
in the course of our conversation with GE, we agreed that if we concession
Lagos-Kano to them, they will have to build a university for training our people.
We proposed that they could even convert our students to experts, so that we
don't allow them to continue to dump technology on us without knowing what to
do with it. But the concession has not been done yet.
On need for policy reviews to improve
maritime trade?
The
truth is that we must face the reality that things have changed; the foreign
exchange is no longer there, so we learn to work with what is on ground. Oil is
now sold at about $50 dollars per barrel compared to when it was sold at over
$100 dollars.
How
will you address the issue of NPA relieving tally clerks of their jobs to
employ cargo surveyors at the port?
NPA said they did not need the tally
clerks anymore because the concessionaires have tally clerks. So, it will be duplicating that same
responsibility and paying two persons for the same job.
I supported NPA for holding that position
because we don't have that kind of money to waste, but NPA too cannot employ
cargo surveyors.