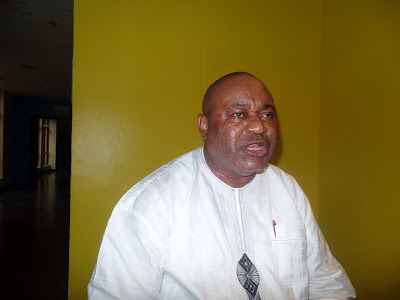 President General, Maritime Workers Union of Nigeria, ComradeTony Nted
Concerned
about a sustainable welfare and job
security for dockworkers, the President General of the Maritime Workers Union(
MWUN) Mr Tony Nted, in this interview, calls for a return to the era of 'dockworkers'
pool' which according to him ensured every worker got an opportunity to be
engaged for jobs.
Nted
also talked on the need for government to review the policy on rice importation
as the policy is deemed unfavorable to the interest of the generality of
Nigerians, who consume rice daily.
The Union President shared as well, on a number of industry issues as it concerns the interest of members of the union.
Considering welfare and job security,
are you still pushing for the re-introduction of a dockworkers' pool?
Recently,
I saw in the paper where dockworkers said they were paid about N400,000. It
does not make sense. I have
traveled
to 34 countries of the world ports
because of this job.
All
the ports I visited, the dockworkers are placed in the pool. When you are in
the pool, when a vessel calls at the port, they will now call a stevedore to
bring 10 men to come and stevedore the vessel.
When he finishes stevedoring the vessel, he will be paid, and he will in
turn pay the workers and their job ends there, nothing like terminal benefit,
nothing like pension.
The
only thing they do, if you stevedore that vessel, you will pay like 5 or 10 per
cent to take care of the aged who have left the industry. When JODLIC came on
board, when they brought the law that brought JODLIC, we had a pool of
dockworkers. With a pool of dockworkers, tally clerks and on board security men
would have been, when you need them for service, you go there and call them,
they do your job, you pay them and they leave immediately.
In
Nigeria it is not so. They used politics to remove the pool, then from JODLIC
to JOMALIC to NIMASA. Now they say the terminal operator should provide a pool
for the workers.
It is not done in any part of the world; the
pools are being managed by the ports authority or now NIMASA, which is
representing the government. When you have your vessel, I come and stevedore it
and you pay me, nothing more.
Here
are three types of operations; the tonnage payment, the unit payment on
container, the time-related wage, for those on permanent employment. You can
employ me to do permanent work for you based on the nature of my job.
For
instance, APMT employ dockworkers on permanent employment, Intels employ on
permanent employment and a few others. But ENL does tonnage payment and you are
paid based on what you work; if you work more you make more money.
But
Union found that the system here was porous and the workers were not getting
much, so we introduced gratuity, and pension to be paid, which is based on the
law, whether they are casual or not. Then, I introduced the gratuity, and we
negotiated for more than three months with NPA, terminal operators and the
union.
When
there is no traffic there will be no job, it is when you have vessel that there
will be job. And we agreed that those big terminals with over 1000 persons,
will collect N350,000, but the ones with less than 1000 will collect N400,000
per person on their exit.
And
we pleaded that every two years we will be reviewing it upward until we get to
a good point.
At
the end, APMT that has condition of service pay their worker terminal benefits,
played some politics so that they will no longer pay the gratuity. The workers
foolishly agreed with them even after we had made them see the implication.
We
had a town hall meeting to let the workers know that they were losing N220
million every month for APMT management, but they foolishly collected the money
from APMT. Immediately they collected the money, dockworkers in ENL said they
wanted their own N10 million too.
They
do not understand the tonnage payment and permanent employment. Those people
have condition of service and handbook and they had been interviewed before
work, but the dockworkers have nothing.
When
they started the fight, the company just paid the 600 of them their money for
them to leave. They simply got their entitlement as signed by all parties
because it was a working document. They decided to go, not that they were
sacked.
We
even asked the company to pay additional N1.5 m to those who even opt to go.
When Intels was sending about 500 out of the industry, we forced them to pay
additional N1.5 m to what they paid. If they had waited, we would have been
able to ask for additional for them.
Recently, your union had an issue with
the former President of the MWUN, Chief Uzoijie Ukaumunna with the allegation
that he sent some people to the secretariat, what really was the problem?
They said their agitation was fuelled by who wants to be the President General
of the Maritime Workers Union and that government disbanded him(Uzoije
Ukaumunna) unjustly, and for that purpose he went to court, and we do not see
any reason why this same group of people will come to have a meeting in our
secretariat.
If
they claimed to be human rights group that wanted to mediate, they should have
invited us to their secretariat and have a meeting with us if there is a reason
for it. But we said that they had ulterior motive to what they wanted to do,
and we wrote them back that we were not interested in any meeting and that they
should not come to our secretariat.
We
also went to court to place an injunction against them that they should not
come to our secretariat for any meeting because we found that they were
planning evil. I think our assumption was correct because about three days ago
they carried out their threat, storming our secretariat with some hoodlums who
came armed with all sorts of weapons to pull down the secretariat.
But
the law enforcement agents responded to our call and were able to repel them.
Some of them were arrested and now in the custody at Panti Police Station.
I
do not understand because Ukaumunna left this industry over 20 years ago, so, I
don't know why he is planning a comeback, because he is over 80 years and he is
still fomenting trouble. The rationale behind what Ukaumunna is doing is
unknown.
Government
needs to put that man in check so that one day something bad will not happen in
the industry; they have come to the secretariat today, tomorrow they may go to
Apapa port to cause mayhem.
The man needs to be called to order, he needs
to be put in check. While he was the president of the maritime workers union,
the dockworkers branch of the union, he caused a lot of troubles, fighting.
When
the Federal Government found out that the operation of the man was inimical to
the nation, a panel of inquiry was set up, headed by late Justice Acholonu, who
investigated Ukaumunna and banned him from the ports, from getting close to the
port.
Till
date, government is still watching this man perpetrating all sorts of
atrocities . We have written so many letters to the government, the ministry of
labour, the ministry of transport, the police and we go there regularly. But we
ask, can't the government put this man in check?
We
don't want to take the laws into our hands, because we can act decisively.
However, we have been calming our people down as we don't want any fracas that
will lead top breakdown of law and order leading to the loss of lives.
So,
we are calling on the government to do something immediately, to apprehend
Ukaumunna and one Professor Morris; they violated the court order, which is
contempt of court and they also wanted to pull down our secretariat, coming to
cause arson, they came with all manner of weapons. No, we are waiting for what
the government and the law enforcement agents will do.
Under
this circumstance, what assurance are you giving to the members of the maritime
workers union, following the apprehension?
For
me, the maritime workers union, we are equal to the task. We also ask the
terminal operators to beef up security in all their areas of operations. We
also ask the Nigerian Ports Authority to take care of the ports as well because
they manage the oversight function and they know who Ukaumunna is.
We
are also talking to the terminal operators not to be apprehensive of anything
because the maritime workers union is ready to protect the industry through the
law enforcement agents, and the dockworkers also are on course and we believe
that there will be total peace.
What are your reactions to the views
that you have been quiet over the problems that some dockworkers have with the
district officer at Niger Dock?
Sometimes,
it is funny. I don't think there is an issue. Before now, the union that
manages the Niger Dock, we went to Ministry of Labour for arbitration and the
ministry said that place does not fall under the maritime workers.
But
because the other union was not taking care of the workers, the workers tried
to opt out and they came to meet the branch leader that they wanted to belong
to the maritime workers union, so, we asked them to put it in writing and in
the course of doing this, the police came and made some arrests and the issue
was taken to Abuja and they came back.
I
called my people and told them that the ministry has said the people do not
belong to us and so, we cannot violate the law, and therefore, they should be
allowed to go to their rightful owners.
If
they say they don't want their union, then, they should go and look for another
union because we did not want to create problems where there was none.
We
found out that the people who indicated interest in belonging to our union were
not representatives of the workers in Niger Dock, and such, we took our hands
off. I don't have to speak on the issue again since the ministry of labour had
spoken.
On the forthcoming election, there are
allegations that you have a candidate, what is your position in that?
Well,
you know, Bob Marley sang that 'Who the cap fits would wear it.' For me, I do
know that the workers themselves know who the cap fits. I have one vote and I
can only vote for you, but my vote cannot let you win election.
So,
the man who is going to contest for the post of the President General will
campaign and I too will support if I know that the person is credible and at
the same time, I will only support one person.
The
constitution allows any person who is a member of the central working committee
to contest for the post of the president general. So, all the people you are
seeing in the hall today are qualified to contest for that position.
But
the point now is at the end of the contest one man will emerge as winner.
Remember, the last time we had the election, Bakare said he wanted to contest
and the workers said no, they wanted Tony. So, I said ok, let us go to the ring
and when we got there he got two votes, while I had 112 votes. That is what I
refer to as 'who the cap fits'.
So, whoever wants to contest for the position
is free to go, but what I am trying to point out is that there is no place in
our constitution that talks about rotational presidency among the branches.

The law says everybody who is a member of the central working committee
qualifies to contest for the position. No tension here at all. On the day, we
will tell everybody who the cap fits and they will support him because they
know that I am not going to bring tout to lead them; am going to bring a
qualified person.
Remember,
the maritime industry, the dockworkers have about 70 per cent power of the
maritime workers. If you pull them out, there will be nothing like maritime.
So, it needs somebody who the cap fits to manage them.
Can you give an update on the issue of
tally clerk and on board security?
The
NPA and the ministry of transportation are being economical with the truth. I
don't blame the ministry because they don't know what is happening in the
industry. The NPA knows the difference between cargo surveyor and a tally
clerk, but they are playing with the whole thing.
Sarumi
who is instrumental to this thing is still alive. He is the former MD of NPA.
He said the cargo surveyor would be created because of liquid bulk, which
cannot be tallied; you cannot tally solid bulk, like wheat or cement pumping
into silos. So, cargo surveyor was created, they have the instrument for
calibration, they go to the vessel and check the tonnage based on the tonnage
of the vessel, and that was the essence.
But
when this MD of NPA came, with their cohorts, because they have cargo
surveyors, all of them, and they now decided to send away tally clerk for their
cargo surveyors.
If
you watch the budget for this year, there was nothing like tally clerk, and
what they have there is cargo surveyor in the budget. And you ask that somebody
who has worked in the industry for 10 years, and who has qualification, not
casual dockworkers, you just ask them to leave without any payment.
We
don't want to create panic or stoppage of operations in the industry, and the
new administration will say this is supporting PDP. That is why we supported
the workers to say let the court decide, whether by ILO convention 137 whether
they are entitled to something when they are leaving or you take them to any
other place. We believe the court will give verdict soon.
Port concession is 10 years, what is the
union perception?
Even
me I don't know about the years. All I know is that once the vessels are not
coming, the dockworkers suffer. If the vessels are coming, the years will not
be a problem; we are saying that the terminal operator should provide
infrastructure as far as their operations are concerned.
APMT is trying in that regard, bring in new
crane, Intels too is fantastic. ENL try to refurbish some of their cranes and
get some; their job does not require so many cranes as they do liquid bulk,
about 5 per cent of their job is container operation.
But
as far as am concerned, it is not too bad, compared to when NPA was managing;
everywhere was toll gate then, everybody demanding money for every little
assignment then. Then there were over 20 agencies in the port. Today,
concession has helped the port operations.
What is your view on rice policy?
Some
of these policies are totally unacceptable to the masses. I don't know if we
have rice that can feed the population, all these should have a gradual
process. But how long will it take for the rice to grow to feed Nigerians.
Today as we talk, a bag of rice is N18,000, the
food all Nigerians eat daily is rice. Some of the policies are inimical to
Nigerians, they need to revisit them and review. Port that use to have 20
vessels daily now it is not so anymore, and government says it is trying to
save money. This is time to think.