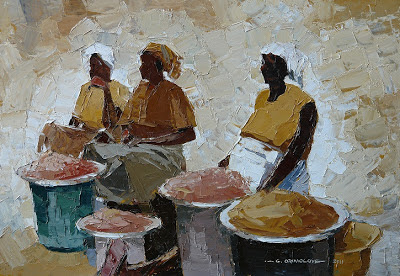 A piece of art by Gbenga Orimoloye, in appreciation of women in their economic pursuit
To every woman out there, I salute you! It feels great
to be a woman, and one with a good

purpose for humanity.
Beyond the news-makers
who contribute their quota in governance and other recognised professional
circles, I want to appreciate every woman who defies the wetness of the rainwater and the heat of the scotching sun selling her tomatoes and vegetables to ensure
that her family is provided for and being available for her children.

As the world marks the International Women's Day
today, different groups are gathered across nations, holding talks about
everything that concerns the woman.


While some people are looking at her
challenging role in the life of a family, others are considering what could be
termed 'satisfactory' as support for her welfare. Importantly, a major focus is
on how to stop violence against women.
The role of women in nation-building cannot be
undermined. Women have continued to be great home-makers as well as significant
contributors to economic development.


In Nigeria, like most African countries,
women play very important roles in every sector of the economy. But I am
particularly worried that with technological advancement to improve healthcare,
women still die during childbirth! I think that this is one area where she
needs real help just as she loves to be safe and live in a peaceful environment!