Amaechi at Kingsley Wali's 60th birthday celebration… says good character distinguishes a man
The immediate past Minister of Transportation,  Chibuike Rotimi Amaechi, has eulogized Hon. Kingsley Wali, as a man of great character.
Amaechi, who was also a presidential aspirant under the All Progressives Congress (APC), stated this on Sunday in Port Harcourt, Rivers, while attending Wali's 60th birthday thanksgiving service.
The thanksgiving service held at the Church of Pentecost (Anglican Communion) Niger Delta Diocese, Rumualogu Mgbuoba, Port Harcourt.
Going down memory lane, the former minister shared a story of how the celebrant boldly refused him entry into a bachelor's eve party for failing to pay an agreed amount of money for the event.
Amaechi said that while he walked back home disappointed, he didn't fight, but prayed. "On my way home, I told God I will break the curse of poverty in my family, so that when next I become a member of any bachelor's eve committee I will pay my dues.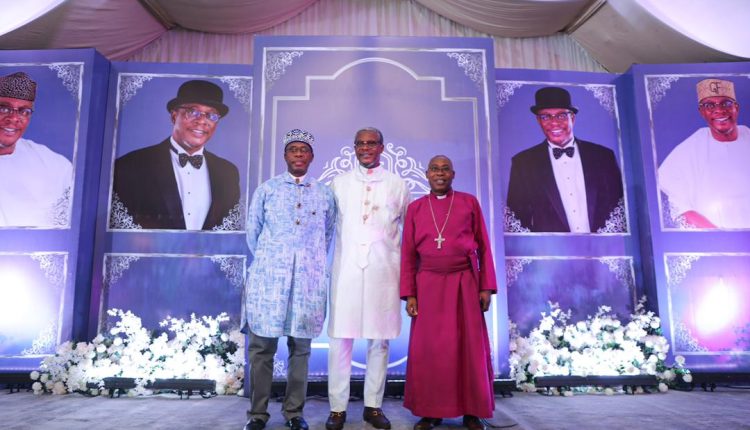 "Kingsley, thank you and thank God. Since then, I have been paying any commitment that I am called to pay and I'm grateful to God, and I'm grateful to you.
"I didn't fight war to break it, I prayed. Because in all things in my life; all things, I didn't say some, all glory goes to God. After praying, I get one quality I don't share with many people- determination. So, that's what you taught me and I thank you.
"Also, that your stubbornness; that thing you think is bad, is one of the things that makes you the man you are. It's one of the things that separates you from others. The last thing that separates you from others which we share together is character. Character is not common on the street, very few of us have character and you have it, please don't give it up, don't! I don't give up my own.
"I wish you were in my campaign; we visited 33 states. In the 33 states, all I heard from everybody was "you are an honest man; you are a man of character and you don't lie. It is the same as you, because I Know you. You are as blunt as you want to tell the truth and I love you for it. I always tell people, the day God will come, I want him to judge me aright because I want to go to heaven and I'm sure you will make heaven if you keep that character."
In his speech, the celebrant, Hon. Kingsley Wali told his guests that he didn't think there was anything but the fact that he likens his life to an open book.
He said: "I'm not a regular person who takes records about my life. But one thing I know is that God has been exceptionally graceful when it comes to things that concerned me.
"I have experienced all emotions. I have lost the most beautiful people in my life; my only sister, my father, my mother, I have lost a child and of course you people know that not too long ago I lost my friend. So what is it that I want to hear again about life? I can only say thank you Father.
"I am 60 years today, not because I'm a wonderful person, it's the grace of God. I've gone through terrible feats that some people who are not here today didn't even go anywhere near, but they are not here today not because they decided not to come, but because they are not with us any longer. So you should help me thank God for his mercy."