At Maritime Academy of Nigeria mentorship plays core role in human capacity development – Effedua
The Maritime Academy of Nigeria, Oron Akwa Ibom, has disclosed that mentorship is playing an essential role in driving its human capacity development and engendering work performance.
Rector of the Academy, Commodore Duja Effedua (Rtd.), spoke at the weekend on this as the Academy's four-day training workshop for staff titled 'Cascading Performance Management,'   gradually draw to a close.
The workshop was held in collaboration with the Federal Ministry of Transport, and facilitated by Value Bridge Consulting Ltd.
The training workshop, which was also attended by some directors of the Federal Ministry of Transport, aimed at reviewing indices for measuring staff performances as well as introducing a more robust approach to doing such appraisals.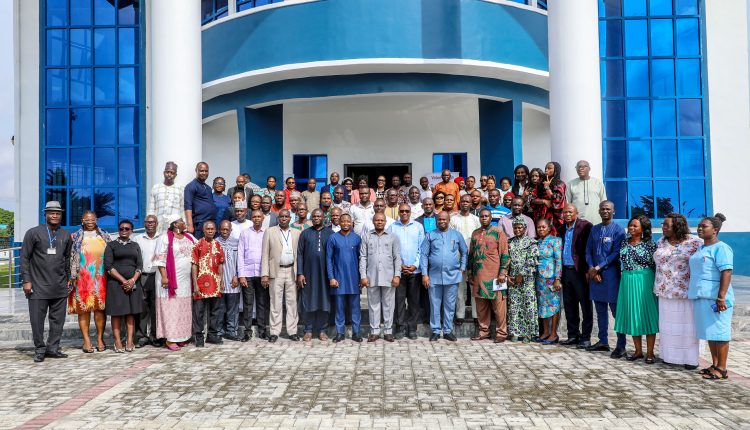 Speaking on the importance of mentorship, Effedua presented a typical scenario of how young children may characteristically take up behaviours they see in practice by their parents, comparing it to what also plays out in any work environment.
He explained that workers in different hierarchy would always subconsciously pattern their attitude to work following what they see in the leadership, making it a primary consideration while building human capacity.
He said: "So, mentorship in the office, if you know that your boss doesn't go about and he is very thorough and he gets angry with you for not doing your job properly, nobody would tell you to make a change.
"Mentorship is something people should take delight in. Here, when I came, the top management were the only ones attending training programmes, but I insisted that they included the lower levels as well. This enables every staff get a first-hand experience and understanding, and it has been helpful to the institution in all."
On his reason for the workshop, Effedua credited his military background for understanding the need for continued training programmes to improve staff and their work approaches for optimum results on the job.
His words: "I am coming from a different background; in the Military, these are mandatory programmes you must go through at every level continuously. And the ultimate goal is attitudinal change and we have seen that it has improved efficiency.
"In my younger days, I used to know that the Civil Service was a highly organised sector, plenty of discipline, you see it in them. They earned their respect; they were very meticulous and organised. But over the years, that efficiency disappeared because other considerations were put first.
"People have to be eminently qualified for the jobs they are given. When a HOD talks, you know he is speaking. If a Director is speaking you will know. If a Permanent Secretary is talking, you will know.
"But these days, apart from the 'old school' who are now permanent secretaries and senior directors, who still have it, the younger ones don't have the kind of quality of trainings. So, I noticed operational gaps; they are not as efficient as they should be. You expect people to be able to use their initiatives, but most of them wouldn't know what to do.
"You give a man a task and you come back to do that task yourself, because they don't seem to understand their responsibility, then, it means that you are not the boss."
According to the Rector, the Academy is satisfied with the level of infrastructure and equipment, and lecturers it has now and would focus more on different training workshops for staff, to enhance their work performances.
"We don't need to look for equipment anymore.  Talking of lecturers, we have qualified hands. You have been here and you have seen what we have here. Most people don't even know the Academy has evolved; we have broken off the challenges of the past. We want to focus now on capacity-building," he said.
Speaking on excellence, Effedua promised that the days where staff just got promoted with time were over, as staff promotion is now determined by excellence on the job, based on systematic evaluation, handled professionally.
He said: "Our staff members now understand that they have to work. And we have this evaluation report on everybody. Promotion is no longer free for all like it was before; you must earn your promotion now. It is not compulsory that you earn your promotion by time."
The Academy would not stop at local trainings, but undertake foreign trainings when necessary, considering that maritime education is for a universal industry that would always work with new innovations, Effedua said.
"You will always have foreign training, whether you like it or not. For instance, there are always new innovations, especially in the maritime industry. For instance, if there is something new, you must go and train for it before you acquire it, even pilots go for courses to become current, even divers. So, for those in nautical engineering, something new might come up and they would need training."
While the Academy plans for a near-future training to accommodate the remaining members of staff, Effedua promised to also have journalists included to enable them gain knowledge in the relevant areas as well.
"So, this is phase one,  I have heard many staff complain of missing out, but we are going to have a phase two to accommodate those left out, and journalists who missed this one as well, would be invited.
"We have planned to also organise another one on the Law of the Sea. We will invite journalists to join, because you need to have knowledge of what you are writing. You work too hard to be able to catch up.
"If you have the knowledge the professionals have, just like you see in CNN- you see that their Defence correspondents are mostly Generals, Colonels, and their medical and health correspondents are doctors, like Gupta, a doctor, and Fauci, who can talk about whatever health issue, because they have the knowledge and we have a lot to tap from them."