The Nigerian Navy on Friday received two visiting Canadian Naval Ships; HMCS GOOSE BAY and HMCS MONCTON.
Speaking at the Headquarters Office of the Western Naval Command in Apapa, head of the delegation and Acting High Commissioner of Canada to Nigeria, Kevin Tokar, told newsmen that they were in Lagos to strengthen bilateral relations as well as participate in the regional maritime domain security exercise code named Obangame Express.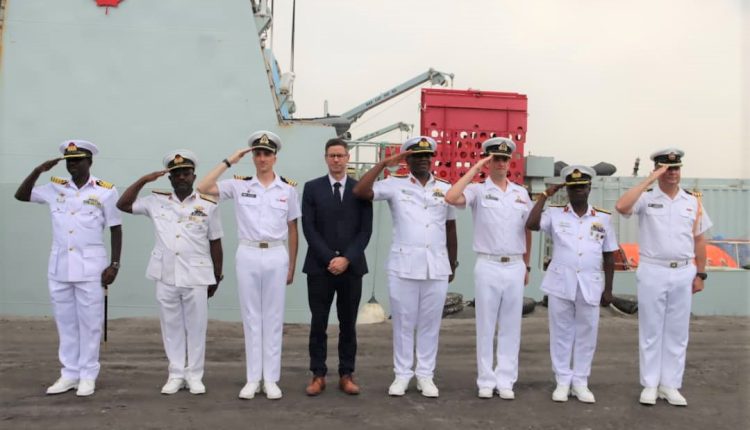 Tokar added that besides the sea exercise for the Gulf of Guinea (GoG) security, the ships' crews would also seize the opportunity of experiencing life in coastal communities in the West African region.
His words: "It is an honour to be received by such a delegation on the Nigerian side. The ships are in the region to participate in the sea exercise Obangame Express, and would be working alongside the Nigerian Navy, as well as other regional and international partners.
"The goal of the exercise is to strengthen cooperation to improve maritime safety and security in the Gulf of Guinea. Of course, Nigeria plays a real leadership role.
"Alongside that exercise, the ships would make several of port visits in West Africa, and have made a couple of visits already. And we would have the chance to speak with officials, communities and get a little bit of the taste of life in some of West Africa's coastal cities. We hope to make Lagos the highlight of the time in these waters."
He noted that the visit at this time was very significant as the year 2022 marks 60 years of diplomatic relations, with a lot in common.
"The timing of this visit is auspicious. This year marks the 60th anniversary of bilateral relations, diplomatic relations between Canada and Nigeria, which dates back to 1962, when it was first established. Now, as two former British Colonies, we have a lot in common, and that bilateral relationship is growing stronger year after year," he said.
He gladly announced that Canada has a thriving Nigerian community; even as both countries enjoy a strong bilateral trading relationship, and with hope that the existing relations would continue to grow.
He said maintaining security cooperation was important, while the nature of their visits remained encouraging to serve as opportunity to talk to each other, share experiences and strengthen the bonds of friendship.
Welcoming the visiting Canadian Navy Ships delegation, Rear Admiral Yakubu Wambai, the Flag Officer Commanding Western Naval Command, reiterated that the Nigerian Navy and her Canadian counterpart would continue to work together to maintain the existing relations between both navies just as the countries do.
He recalled that the Canadian Navy had paid similar visit to the Navy in 2018, when it also participated in the joint sea exercise on maritime domain security.
He said: "Nigerian and Canadian military officers have participated in several foreign courses and peace-keeping missions together, which have enhanced relationships between the two countries.
"In 2018, the then Canadian commander paid a courtesy visit to Nigeria, in a bid to foster relationship between our navies; at that period, we had two ships that came from Canada, namely HMCS SUMMERSIDE and HMCS KINGSTON. After that, they also participated in Exercise Obangame , just like HMCS MONCTON and HMCS GOOSE BAY are here today. We really appreciate that."
Rear Admiral Wambai added that the reduction in maritime crimes in the last 12 months was a result of purpose-driven partnerships in the fight against insecurity in the Gulf of Guinea.
"For Obangame Express, we are going to participate together; it is an avenue where partner nations try to enhance maritime security. The Gulf of Guinea had been bedevilled, but in the last 12 months we have seen drastic reduction in maritime crimes also within the Gulf of Guinea.
"This was achievable due to the existing partnership between us; Gulf of Guinea coastal states and partners like you that come, exercise and patrol our waters. That is a very welcome development and we really appreciate that," Wambai said.
He expressed hope that while the navies would share experiences of the exercise, the Nigerian officers should get more, in form of trainings and other support to ensure safe seas.
His words: "Your experience and strategic locations at the Atlantic, to the Pacific Ocean and northward to the Arctic Ocean will be of immense benefit to us as you continue to provide an opportunity for all participating navies to synergise and learn from one another's experiences.
"Apart from port calls, we want to have more interactions and not just once-in-a-while exercises. We want to have more interactions in terms of trainings and other areas of support that can help make the seas safer. And when the seas are safe, it means the world economies would become better. We welcome you once again to Lagos, a beautiful city and with warmth."
Visiting with Kevin Tokar are the Deputy High Commissioner of Canada to Nigeria, Teshome Nkuruma, Commanding Officer of Her Majesty Canadian ship GOOSE BAY, Cdr Daniel Rice, and Commanding Officer of HMCS Moncton, Lt Cdr Jonathan Maurice.