Rear Admiral Monday Unurhiere, the Special Guest of Honour at the 2021 Nigerian Navy Ceremonial Sunset, called on Nigerians to be more committed to the progress and well-being of the nation, by contributing their quotas to her development.
The event took place on Thursday at the NNS BEECROFT Parade Ground, Apapa- Lagos.
Speaking, Admiral Unurhiere reminded guests at the occasion that each person has something within them to contribute for the betterment of the nation.
He said: "As we relax and enjoy the yuletide season in the build-up to 2022, let us spare thoughts for what we individually and corporately will do to enhance Nigeria's prosperity and by extension humanity.
"We must all be reminded that there is none of us that do not have something to offer. We are all stakeholders in humanness and must therefore be willing to play.
"The increasing volatility, uncertainty, complexity and ambiguity of the environment we operate in dictates that each and every one of be innovative and willing to question long-held assumptions and beliefs.
"This is the certain way to responding and sometimes correctly anticipating future threats. Our thinking is key to this endeavour, and the thinking that created a challenge will never be sufficient to solve it."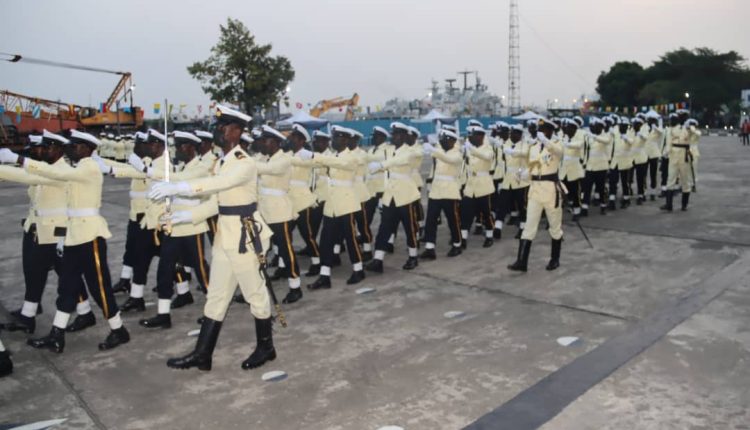 The Special Guest of Honour used the occasion to commend the naval high command for remarkable efforts in plans and operations carried out in ensuring security of strategic national assets and defence of the nation's maritime territorial integrity.
"Let me start by thanking God on behalf of every one of us here for witnessing this event. I thank the Chief of the Naval Staff Vice Admiral Auwal Zubair Gambo and Nigerian Navy Strategic Management Team for the giant strides the Nigerian Navy has recorded in the calendar year on which the sunset symbolically a while ago.
"Though we may not have arrived at our desired place, we have certainly made progress in our efforts to statutorily defending Nigeria's maritime territorial integrity and protecting our strategic national assets from maritime threats.
Despite the challenges currently being experienced, the activities within the year, particularly regarding the platforms that were injected into service, numerous personnel capacity-building efforts and conceptual consolidation as seen with the publication of a Nigerian Navy Doctrine and the hosting of  Seapower  for Africa Symposium, have boosted NN response immensely.
"Just last week, six ships including Nigerian Navy -built Seaward Defence Boat 3, NNS OJI, were injected into the system. With the addition of these efforts to Nigerian Navy's fighting capability, I am hopeful that current challenges will pass and we are now better prepared for future threats," Admiral Unurhiere said.
The Special Guest of Homour added that celebrating milestone successes were strategies for sustainable change management.
Going historic, the Admiral, giving some background, said that "the naval tradition of hoisting colors at sunrise and lowering them at sunset dates back to the end of the 16th century, but it was in 1844 that the timing for hoisting was fixed at 8am. Before this, flags were used mainly for signaling purposes and were taken up and down at dawn and dusk respectively.
"This was simply because it was impracticable to decipher intended messages once it was dark. Subsequently, fanfare was added to the hoisting and lowering of colors and the practice still continues to date in Nigerian Navy units ashore and afloat.
The Nigerian Navy notably celebrates special times such as its anniversaries, Independence anniversaries and marking of the end of a successful calendar year, such as this.