Lagos State officials more interested in revenue than solutions to Apapa gridlock – AMATO
…Calls for demolition of illegal checkpoints by Policemen in Lagos Port areas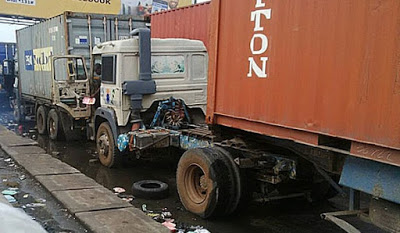 The Association of Maritime Truck Owners (AMATO), has accused officials of the Lagos State Government deployed to manage the traffic situation in Apapa as only being interested in the money they would illegally generate daily, than in finding lasting solutions to the perennial gridlock that continue to hurt businesses within the port city.
Speaking on the backdrop of a recent agreement between the State and the Management of the Nigerian Ports Authority (NPA) to collaborate for lasting solutions to the problem that continued to defy several solutions including an electronic call-up system tagged "eto', Chairman of AMATO, Chief Remi Ogungbemi, said the proposed solution-finding effort must include the truckers themselves, in order to make meaningful impact.
Ogungbemi  said in a chat with our correspondent that : "The collaboration between the Lagos State Government and the NPA is ok,  but it is incomplete without involving the truckers, because it is he that wears the shoe knows where and how it is pinching.
"So far so good, the collaboration of NPA and LASG is yet to yield any good dividend. The collaboration should be properly defined to mean bringing sanity and orderliness into the system. But to my understanding of the assessment of the situation presently, the representative of the the State in the collaboration are 99% interested on revenue drive.
"They usually forcefully indiscriminately arrest, impound and impose outrageous bills ranging between 150k – 250k to pay as 'ransom' before the truck can be released."
Ogungbemi added that it had become needful to transfer some Police officers who seemed to have stayed for very long period of time on the same duty post in Apapa and Tin- Can areas.
He said: "These overstay ASP/Inspectors/Sergeants/Corporals, and their likes, are the shrines and demi -gods of bribery and extortions (sic) in Apapa/Tincan.
Unless they are flushed out, they will keep polluting the minds of newly- deployed police officers.
"Come to wharf gate, u will see them parking cars and supervising the collection of bribe. They have built and centred their lives on extortion.
"They rather die or resign than to be posted out of port environment. Government must take the bull by the horn. Policemen who have overstayed at a duty post should leave Apapa and Tincan. All points of extortion should be demolished for the roads to be free of traffic that is deliberately induced by checkpoints of extortion."