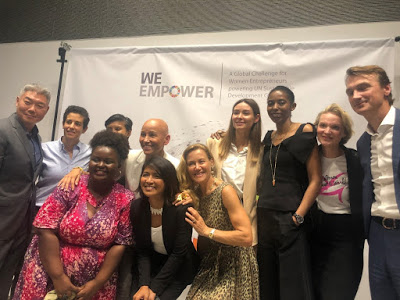 Dr. Amy Jadesimi (MD LADOL) third from right, standing
at the back in a group photograph
The Managing Director of LADOL Free Zone, Dr. Amy
Jadesimi was one of the five industry leaders chosen to select the winner of
the Global
WeEmpower
F
emale
Entrepreneurship challenge at the just-concluded United Nations General
Assembly week in New York.
The WeEmpower UN SDG Challenge is the
first-of-its-kind global business competition for women entrepreneurs who are
advancing the UN Sustainable Development Goals and inspiring entire communities
to act to create the world we want by 2030.
The WeEmpower Challenge honours five women
entrepreneurs, one from each of the five UN regions, who are advancing the SDGs
through their business practices.
The opportunity recognises their innovative
work, provides capacity-building training sessions and high-level advocacy
opportunities to the awardees, and ignites awareness about the valuable
contribution women entrepreneurs can make toward the SDGs.
The WeEmpower Awardees convened in New York City
during the week of the UN General Assembly.
The first major event was a dynamic
pitch competition hosted by fashion designer, activist and Vital Voices Board
Member Diane von Furstenberg, and judged Dr. Amy Jadesimi (MD LADOL), Sam Chung (EVP Finance and Strategy
Salesforce.com), Anu Duggal (Founding Partner, Female Founders Fund), Cameron
Fowler (President, North American Personal & Banking, BMO Financial Group)
and moderated by Stephanie Mehta (Editor-in-Chief, Fast Company).
The $20,000 grant was awarded to Leah Lizarondo, CEO
and Co-Founder, 412 Food Rescue. But all five of the awardees were highly
commended.
After judging the pitches, Dr. Jadesimi commented:
"WeEmpower is putting brilliant female entrepreneurs on a global stage. All 5
of the awardees were impressive – both in terms of the bankability of their
business models and their passionate dedication to the SDGs. These are the
business models of the future.
"The mainstream financial sector is largely
oblivious to such opportunities, meaning they are also great undervalued
investment opportunities. Sustainable businesses, such as these, will be the
drivers of global prosperity. 80% of the 680 million new jobs the world needs
will come from SMEs. We need to exponentially expand the work of organisations
such as WeEmpower, so that millions of sustainable businesses and business
leaders can be identified and supported across the world.
"As part of LADOL's ongoing development, we will be
developing infrastructure and facilities to support a range of sustainable
entrepreneurs and SMEs – developing innovative customised solutions for the
West African market."
She added that "Investing in female
entrepreneurs with sustainable business plans is one of the most lucrative ways
to help ensure achieve the SDGs."