Tosin and Esther in a performance
On its third edition, As'tele
Hangout has added its voice to the rest of the 'talking society' through
dances, traditional poetry (ewi), spoken word, drumming and several other creative arts, to
showcase the realities of society today.
The performances depicted the
good, the worrisome and the efforts at trying to keep society thinking right.
For the creative team, As'tele
has come a long way in establishing a positioning to enable young and growing
artists see a reflection of society in entertaining performances, irrespective of
what the troubles may be.
So, Noble Albert, a script
writer, actor, filmmaker, in his short dance performance

'Weep not Mother' draws attention to the
trouble of facing 'suicide' in Nigeria, where people once thought it was alien
to the society. But, hit by the sad reality, Albert advocates a choice for life
and the peace of dealing with whatever troubles by seeking help. His
performance encourages everyone to talk and not die in silence trying to go
through troubles alone.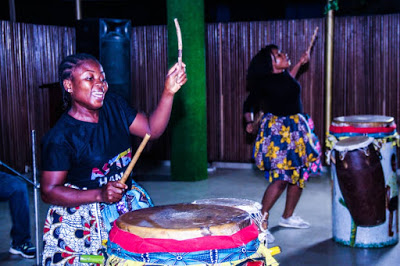 The ladies on drum
Gbolabo Adebakin, aka Chief
Gibbs, and widely referred to as the Singing Chef, presents 'Evermore', an
adaptation from Beauty and the Beast, and told through the interpretation of
the performer. It is a blend of monologue, music and improvisation.
Awoko Habeeb Ayodeji presented
a flute rendition and pelumibaba (Pelumi Laws) performed Yoruba poetry/rap.
Adedamola Adegbulu Dorcas had
an exhibition of visual arts, as highlights of the show included a music
performance – a blend of contemporary jazz and traditional drums ensemble by
Drumsview Concept.
A dance piece – an invocation,
an invitation to self-exploration, interaction and oneness with nature was done
by Tantoloun Productions. While award presentations were made to Arts Writer,
Hope Orivri, and to Photographer Michael Ogar.
The Creative Team is composed of
Esther Essen, Esther Umeonwujiobi, Bakare Ismail Abiodun and Oyebisi Tosin
Akinboye.
MC: Wole Salisu (Wole Comedian)
Music Team: Babatunde Goodluck,
Adisa Abiodun Timothy, David Akinsola Abbeyjazz
Abiodun Fabiyi, Michael
Olatunjoye, Ibukun Oladipupo, Peter Abayomi, Esther Essien and Oluwatosinoyee
Oyee.
As'tele Hangout is powered by
Tantoloun Productions, a performing arts group with the full gamut of artists
who have vast experiences and specialized in various aspects of arts.