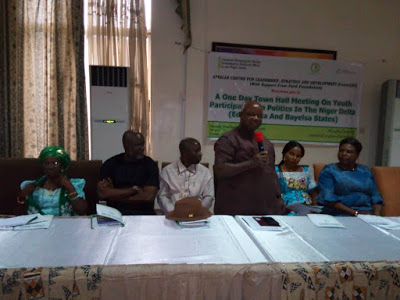 Mr. Monday Osasah,(Standing) Ag. Executive Director, African Centre for Leadership, Strategy and Development, addressing participants at a meeting in Warri.
By Nathaniel Obruthe
The African Centre for
Leadership, Strategy and Development (Centre LSD) has appealed to the
political parties to reduce the cost of nomination forms to enable youths participate actively in the 2019 general elections.
The Executive Director of
Centre LSD, Mr. Otive Igbuzor made the appeal on Thursday at a Town Hall meeting
on "Youth Participation in Politics in the Niger Delta of Edo, Delta and
Bayelsa States."
The programme organised by
the Non-Governmental Organisation (NGO) in collaboration with Ford Foundation
was held in Warri.
Igbuzor who was represented
by the Acting Executive Director, Mr Monday Osasah also appealed to political
parties to adjust their policies to accommodate and stipulate 30 per cent
elective and appointive positions for the youth.
" Political parties
should ease the cost of nomination forms for their parties knowing the economic
situation of the youth.
" There is no better
time than now to contribute positively to the course of the youth.
"It is time to
hand-hold the youths who have shown determination to succeed in politics by
showing them the way to go and how political decisions are made," he said.
Igbuzor said the youth were
great assets to the sustainability of the nation adding that the NGO had built
the capacities of over 240 youth interested in political offices in Edo, Delta
and Bayelsa.
"Political leadership
is a huge challenge in Nigeria. The challenge for the future is even more
greater as there is increasing marginalisation of the youth in politics,"
he said.
The keynote speaker, Dr
Charles Apoki called for the review of the nation's political system to make it
less attractive.
Apoki said that some
desperate people in the society view politic as an investment option to further
enrich themselves at the detriment of the masses.
"Youth have the
population, they should unite and form a common front.
" We should start to
mentor the youth for greater position in so doing we are investing in the
future of our country.
"Youth should develop
constructive ideologies and also do a lot of advicacies and participate in
politics," he said.
One of the discussant, Mr. Innocent Ukeh-Eboh, said the political parties in the country lacked good
principles, and he expressed fear that the suffering of the masses would linger
unless the status quo was redefined.
"Good vision is the
driving force for any good generation, we should have a change of attitude and
approach to have a better Nigeria," he said.
Some of the youths in
attendance during the discussion session said the youths have the capacity to
lead the country better if given the opportunity.