Perterside desrcibes Nigeria's maritime as 'soul of nation's economy… wants IOCs to engage indigenous shipowners in ferrying Nigeria's oil &gas cargo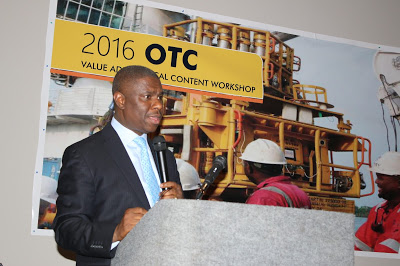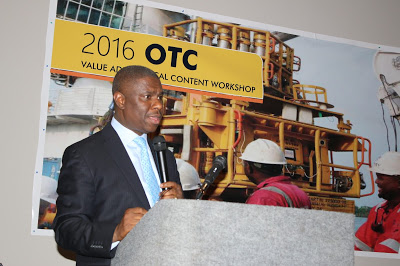 NIMASA Director General, Dr. Dakuku Peterside delivery a paper at a workshop on local content implementation in Nigerian Oil&Gas Industry
The Nigerian
Maritime Administration and Safety Agency (NIMASA) is pushing for the
engagement of eligible Nigerians by the International Oil Companies (IOCs) in
lifting of Nigeria's oil and gas cargoes.

The Director General of NIMASA, Dr. Dakuku
Peterside, made this known at a workshop on "Local Content Implementation in the
Nigerian Oil and Gas Industry: A Cost Reduction Strategy."
The workshop was organised by the
Petroleum Technology Association of Nigeria (PETAN) on the side-lines of the
2016 Offshore Technology Conference (OTC) in Houston, Texas.
Peterside decried the situation where all
of Nigeria's oil and gas resources are freighted by foreign vessels and
promised to assist in building the capacity of indigenous operators to
participate more actively in ferrying Nigeria's oil and gas resources.
Describing Nigeria's maritime industry as 'soul
of the nation's economy,' Peterside said that the oil and gas sector often
referred to as the heart of the Nigerian economy must take cognisance of the importance
of the maritime industry to its sustainability.
According to the DG, "apart from the
fact that most of the oil and gas exploration, which is the major revenue
earner of the country is done in the maritime environment, vessels are needed
to transport these products from one point to the other making the maritime
sector integral to the whole economic process."
In his paper titled "
Local Content And Cabotage Regime Implementation in the
Nigerian Oil And Gas Industry As A Cost Reduction Strategy",
Peterside
said the oil and gas industry in Nigeria would only truly develop when the
maritime sector grows with it.
He called on investors to commit more
resources to building local content in the maritime industry, and assured
operators that it was in their interest to build local capacity, an investment
in that regard would be mutually beneficial to all parties.
He expressed concern that NIMASA as a strategic
Agency of government had been grossly misunderstood, and assured stakeholders
of the commitment of the new Management to prompt the development of local content
in the maritime industry and push for the review of the Cabotage Act to make it
more beneficial to Nigerians.
He assured operators in the oil and gas
sector that more than ever before, NIMASA would readily enforce its statutory
responsibilities especially in the area of preserving and protecting the marine
environment from the adverse impact of oil exploration and other commercial
activities.
The NIMASA director general, however,
warned that the Agency would no longer tolerate a situation where IOCs renege
on the payment of levies due to the Agency as enshrined in its enabling
instruments.