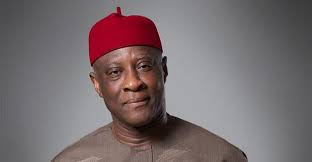 Capt. Emmanuel Iheanacho, Chairman Integrated Oil&Gas Ltd.
Maritime
Expert, Capt. Emmanuel Iheanacho, has debunked a media report credited to him
alleging his condemnation of a proposed initiative by the minister of transportation
to establish a national carrier for Nigeria.
This was
made known in a statement in Lagos on Saturday by Mr Enyeribe Anyawu, the Manager, Media
Relations/Corporate Affairs, Integrated Oil & Gas/
Genesis Worldwide Shipping.
The
statement read, "My attention has been drawn to a story published by Ships
& Ports Daily of Wednesday 27th April, 2016 entitled: "Ihenacho to Amaechi:
Planned national carrier is a waste of resources" and hereby react as follows:
"At no time
did I grant Ships & Ports any interview to this effect and therefore disown
all the attributions made in the report.
"I view the
story as mischievously contrived to portray me as being against the Minister of
Transport, Mr Rotimi Amaechi, and the federal government's policy initiatives
–all with the intention to create disaffection and ill-will between me and the
government of the day.
"I am fully
aware of the committee of maritime experts and stakeholders set up by the
minister to examine the propriety and feasibility of establishing a national
shipping line whose work is already in progress.
"The
committee's report is expected to capture the various shades of opinions and
its recommendations should determine the government's next line of action. It
is therefore out of place for me to pre-empt the committee's report just as it
will also be uncharitable to dismiss their work as a waste of time and
resources which is the impression Ships & Ports story is seeking to create.
"Irrespective
of what I feel about government establishing a new national carrier or if I hold
contrary opinion to that of the minister, I will not make my feelings known on
the pages of newspapers or seek to rubbish the efforts and thinking of the Hon.
Minister of Transport as the story seeks to portray.
"I
therefore denounce this mischievous story and sound a note of caution to Ships
& Ports to refrain from creating unnecessary impression of opposition and
animosity where none exists in the name of exclusive stories," the statement
concluded.