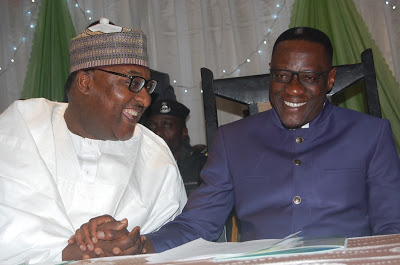 Kwara State Governor, Abdulfatah Ahmed(Right) and Executive Secretary, Nigerian Shippers' Council, Barr. Bello Hassan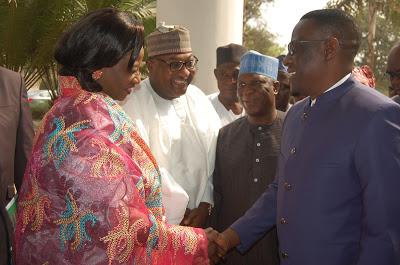 R-L: The Executive Governor, Kwara State, His Excellency Abdulfatai Ahmed; Alh.
Yahaya Commissioner for Works and Transport, Kwara State; Executive Secretary/CEO,
Nigerian Shippers' Council, Mr Hassan Bello, and Mrs Dabney Shall-Holma, Director,
Commercial Shipping Services, Nigerian
Shippers' Council at the One-day Summit in Ilorin recently
Gov. Abdulfatah Ahmed of Kwara has said that provision
of standard cargo airports will drastically reduce loss of revenue from
Nigerian agricultural produce.
Ahmed stated this at a one-day National Airfreight
Summit held in Ilorin with the theme: "The Diversification of Nigeria's Economy:
Role of Cargo Airports in the Exportation of Perishables, Kwara State in
Focus."
News Agency of Nigeria (NAN) reports that the summit
was organised by Kwara State Government and Nigerian Shippers' Council under
the umbrella of Federal Ministry of Transportation in collaboration with
Airfreight Stakeholders Forum.
"Our farmers are producing large quantities of
perishable products but there is no means of transporting them quickly to
international markets where demands are high.
"If cargo airports were established in the hinterlands
of the country, it would reduce waste in the sector and that would improve the
individual's and country's foreign exchange earnings," Ahmed said.
He said an efficient, flexible and dynamic airfreight
system would promote the growth of the nation's economy and improve her global
competitiveness.
The governor said that airfreight could be an
important catalyst in the diversification of the nation's economy through
expansion of Nigeria's non-oil export market to earn greater revenue for the
government.
Ahmed stressed the need to encourage air freighting
activities in order to support farmers in the country and produce more farm
produce to meet demands of the international market.
He urged the Federal Government to invest in domestic
cargo business to create more job opportunities for Nigerian youths and cushion
the effect of the harsh economic environment.
In his speech, Mr Hassan Bello, the Executive
Secretary of Nigerian Shippers Council said Nigeria needed to consider and
develop airfreight as a viable means of transporting farm produce to
international markets.
Bello said the Nigerian economy was rapidly getting
integrated into the global arena as the country's local delicacies were in
great demand abroad by Nigerians in Diaspora.
He said that air cargo transportation specialised in
movement of perishable goods and high value products requiring increased
security.
Bello said the objective of the summit was to
sensitise stakeholders to the potential that abound in the airfreight sector
and for diversification of the nation's economy.
He tasked government and all stakeholders to
consciously promote the sector so as to develop the national economy.