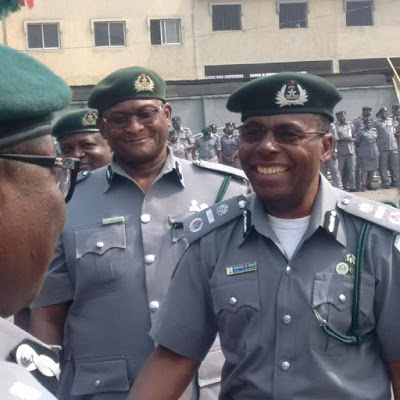 ACG, Zone 'A' Eporwei Edike at the Apapa Area Command recently
The Nigeria Customs Service
(NCS) said that overtime containers of electricity equipment belonging to the
defunct Power Holding Company of Nigeria (PHCN) were being moved out of the
Ikorodu Lighter Terminal.
The Zonal
Coordinator of NCS, Zone `A` and an Assistant Comptroller-General, Charles
Edike, stated this on Thursday in Lagos.
He said
two other states – Delta and Jigawa – had also commenced clearance of their
consignments which had also overstayed in the terminal.
Edike
said that if the overtime containers were out of the terminal, more overtime
cargoes would be accommodated to relieve major ports in Lagos of congestion.
The zonal
coordinator said that on the other hand, the Ikorodu terminal would also be saved
the problem of congestion.
According
to him, the service made several appeal to both PHCN and the states to pick the
containers which had overstayed in the terminal.
Edike
said that the Comptroller-General of Customs, Hameed Ali gave the order in
order to decongest the terminal.
"It is
incumbent on all officers including myself to support the CGC to achieve his
policy thrust anchored on transparency, honesty and integrity," the zonal
coordinator said.
He said
the service had also reduced charges to enable the owners take their goods from
the terminal.
"A lot of
containers loaded with electricity equipment belong to PHCN. These containers
were deployed from the ports," Edike said.
One of
the state governments had 50 containers of Keke NAPEP, while the other had 20
containers of building equipment. The containers were transferred to the
terminal between 2011 and 2015.