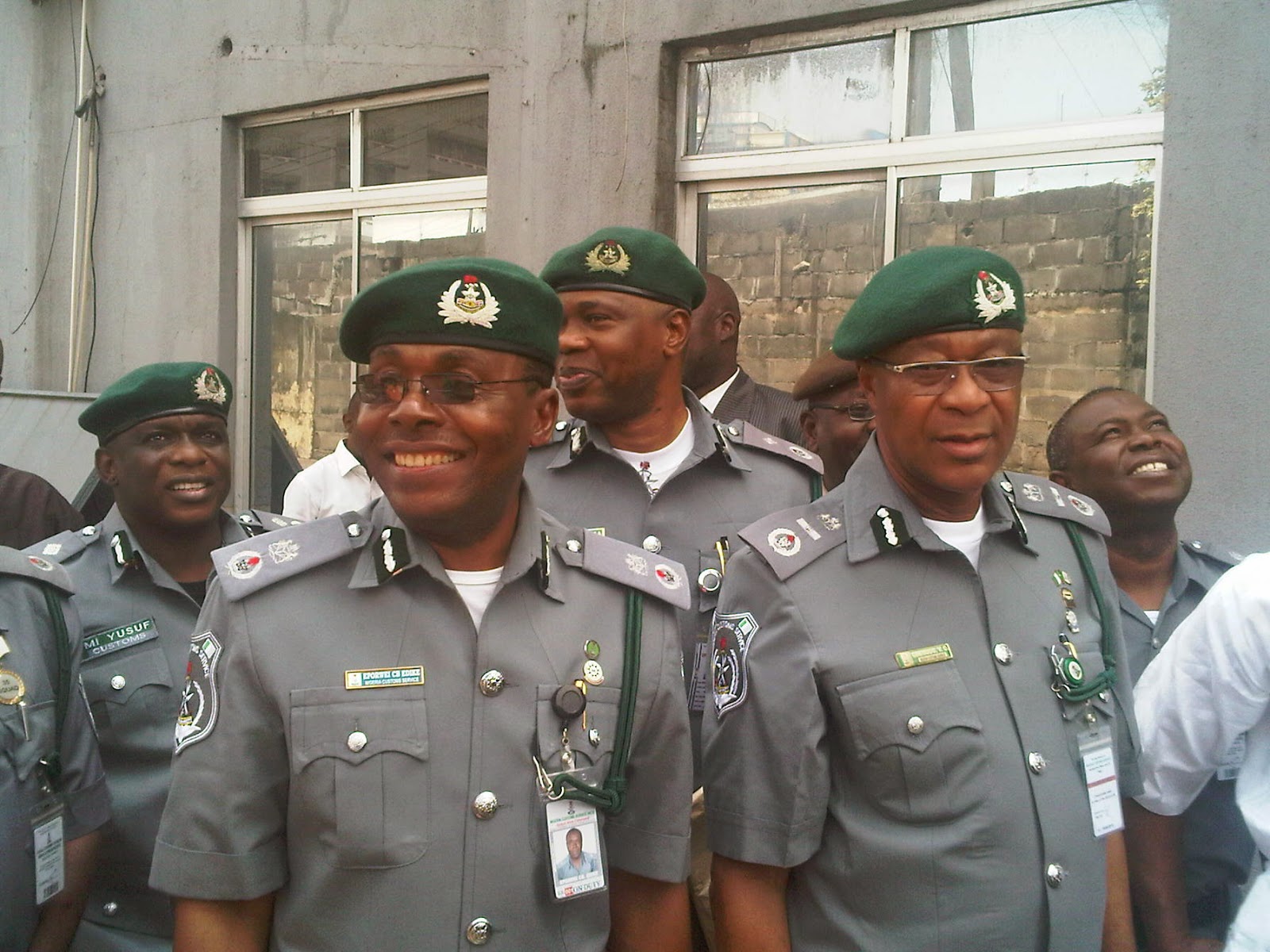 CAC Eporwei Edike and ACG Victor Gbemudu with other officers during the commissioning of an ICT Centre at Apapa Command
The Apapa
Area Command of the Nigeria Customs Service(NCS) on Wednesday disclosed that it
had transferred a number of containers form the Apapa port to smaller ports
like Lillypond.
Comptroller
Eporwei Edike, Controller in charge of the command, said that the initiative was
to enable them clear container backlog that resulted from the strike action
that was undertaken by clearing agents.
"We have
been doing massive transfers to Lillypond, in fact, throughout the strike period;
we called the APMT to begin to do transfers to other terminals.
"The oil revenue is dwindling and government
attention is focused on Customs duty. So, if we are not working here, they can
be working over there.
"If we are not collecting revenue here, they
can be collecting over there. It does not matter who is collecting the revenue
because it is one Customs account.
"I am not
bothered about the target given to me, what I am bothered about is the national
revenue, so, we are fine.
"Even this morning,
two vessels were stemmed to Lillypond because here, we get backlog and we just
have to clear it up," he said.
The Controller
also said that a memo was sent to all
officers, particularly at the busy terminals that they must begin to work fully
during the weekends; Saturday and Sunday.
"No more
skeletal weekends, full duties for those days so that we can clear the backlog.
We have told them that they must not give anybody any frivolous query; any query
issued must be substantiated.
"This is because once queries are issued and
they are not attended to, they can cause delays here and there.
He however said
that officers have also been tasked to carry out proper examination in order
not to allow some people take advantage of the backlog situation to bring in dangerous
items into the country.
"But we have
also told officers to properly examine containers, to avoid people take advantage
of the rush and want to push in dangerous items like arms and ammunition and
drugs.
"So, in
spite of the fact that we want to be quick to clear the backlog, we also do not
in haste allow dangerous items into the country.
"That memo
has been made to the terminals and to APMT, that they should make provisions
for some sort of lights that can enable us to do some examinations into the
night to clear the backlog," Edike said.