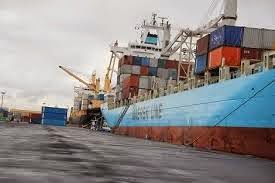 The Nigerian Ports Authority (NPA) on Tuesday said 11 ships laden with
petroleum products have arrived at the ports in Lagos.
The NPA disclosed this in its daily publication, the 'Shipping Position,' made
available newsmen in Lagos.

According to the NPA, seven of the ships sailed into various terminals at
the port with petrol, three had kerosine while one arrived with bulk gas.
An additional 12 ships arrived the ports with food items and containers, the
NPA said.
" Six of the 12 ships came in with different food items while six
sailed in with containers."
Meanwhile, the NPA also disclosed that it was expecting the arrival of 43 ships
from Oct. 28 to Nov. 27.

It said that 17 of the 43 ships would arrive at the terminals with
containers while 14 others would bring in food items.

"Six ships will sail in with rice in bags, three will arrive with
buckwheat, two with frozen fish while one ship each will bring in crude palm
oil, bulk malt, bulk sugar," the NPA said.



The breakdown also showed that general cargo would arrive in five ships
while only three ships would sail in with vehicles.


The NPA also said that of the expected ships, one ship each would arrive at
the ports with petrol, kerosine, base oil and bulk coal.