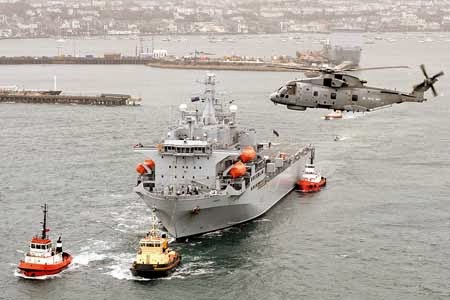 The response
of the international community to the Ebola crisis in West Africa continues to
ratchet up, with London dispatching a maritime-based medical task force (MTF)
to Sierra Leone.
Civilian and
military medical personnel with stores and equipment are currently on passage
to the former British colony on board the 'Argus'.
The 'Argus'
is a specialist vessel of the Royal Fleet Auxiliary (RFA), the logistical support
fleet of the British Royal Navy (RN). The ship is due to arrive off Sierra
Leone by October 28.
Also on
board the 'Argus' is a detachment of 70 Royal Marines with landing craft and
three RN Merlin helicopters. The Marines will provide personnel protection, and
secure ship-to-shore transport.
The
helicopters will carry out reconnaissance missions and fly medical teams and
equipment to locations where support services are urgently needed.
Meanwhile,
'Argus' will remain offshore to providing a secure, sanitised, and
non-politically contentious base facility.
This
mission, Operation Gritrock, is scheduled to six months. The aim is for the MTF
to help beleaguered local health staff to set up high-quality medical
facilities where most needed, and to train them to use these facilities
efficiently, thereby containing the pandemic.
It is not
intended for any Ebola patients to be treated on board the RFA ship.
The 28,000
tonne, 175-metre 'Argus', originally the Italian-built container ship
'Contender Bezant', was converted into an aviation training ship for the RFA in
1988. In 2007 she was fitted with a 100-patient hospital suite to take on the
additional role of primary casualty receiving ship (PCRS).
Because a
PCRS is not classified as a hospital ship under international law, the 'Argus'
could, in time of conflict, return treated casualties directly to the battle
space.
The ship is
also permitted to undertake other military tasks and to retain its armament of
two 20-millimetre cannon and four machine guns.
The ship has
proved to be a most versatile asset over the years, having been deployed on
anti-submarine, amphibious warfare, disaster relief and offshore patrol
operations in addition to its main tasks.