OYASAF Lecture Series V: Chuu Krydz X-rays striking similarities in Art and Culture among Nigeria's Igbo and the Ainu of Japan in post-colonial period
Ainu sculptor, Toru Kaizawa with Chuu Krydz Ikwuemesi in Hokkaido, 2009
Chuu Krydz Ikwemesi delivering his paper at OYASAF
A group photograph of participants at the lecture
Fast-eroding cultures, especially among many African
societies have continued to pose great concerns among people who understand the
degree of the consequence of losing one's cultural elements that serve as mark
of original identity.
Looking inward to finding a solution to this challenge
is the OYASAF Lecture Series organised by Prince Yemisi Shyllon to create a
re-awakening, tapping into the peoples' consciousness to keep alive the importance of preserving culture
and heritage.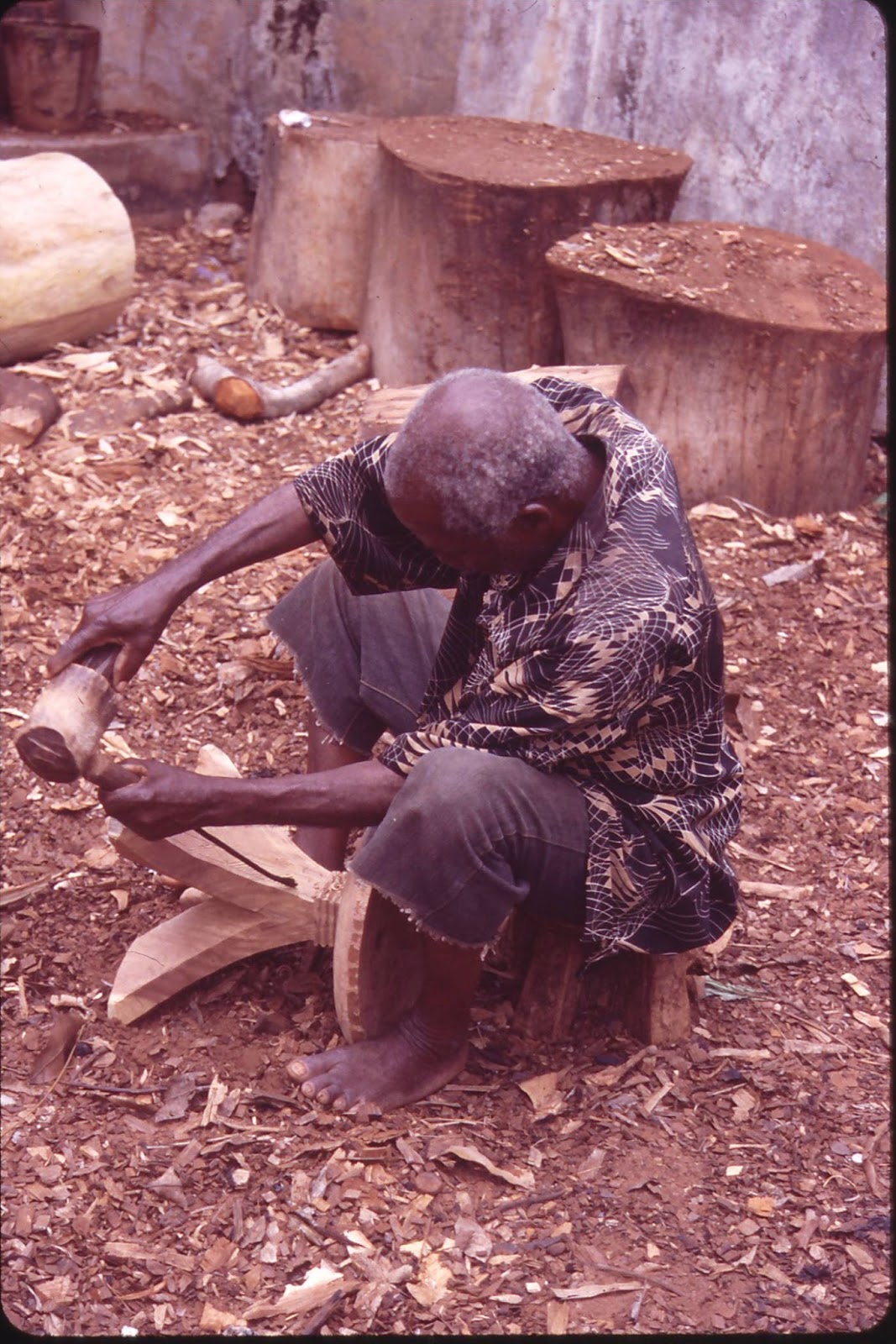 A Carver in Umuawulu, Anambra State, Nigeria
Prince Yemisi Shyllon and Chuu Krydz after the lecture at OYASAF
In his lecture, Krydz Ikwuemesi, a painter, art
critic, ethno-aesthetician and Associate Professor of Fine Art at the University
of Nigeria, Nsukka, identified how change and continuity had defined art and
culture among the Igbo and Ainu peoples.
He looked at the historical background of the two
peoples; considering their life cycles, their education, religion and world
view, just as he considered their social order and justice systems.
A unique point in his work shows the pan-human
phenomena of art and culture, bearing the fact that so much of the art and
culture of the Igbos of Nigeria and the Ainu of Japan are strongly similar even
as both are far apart in terms of location.
Ainu printmaker Koji Yuki
Krydz noted
however, that for the Ainu people, very minimal change had happened in their
art and cultural perspectives as defined in many elements unlike the Igbo
situation where there had been large 'Western infusion and diffusions' considering the influence of colonialism.
Evident as the cultural imperialism may be really, Krydz
stamps his conviction about the power of cultural traits in people irrespective
of where they may be.
In his words: "In spite of all the impact of
globalisation, you cannot deny where you come from and that is my contention;
globalisation is there, but even if you live in America, you can't become an
American, you are still an Igbo or Yoruba man. At the end of the day cultural
traits and elements will subsist.
Krydz explaining some points while delivering his lecture
"I agree that the impact of globalisation is great and
largely negative, but you don't call an artist an Igbo artist because he was born Igbo, no, you tell him by the kind
of work he is doing, how much Igbo element is there, how much of Igboness, in terms of spirit, of
content, the ethnography and the form in the work."
In that regard,
Krydz considers Tayo Adenaike an Igbo
artist because of his kind of works along Uli and Insibidi.
Uli painting by Chuu Krydz Ikwuemesi
He also believes that if education is given the right
value, the issues of eroding identity can be addressed.
Assigning responsibilities, Prince Shyllon believes
that every African; Nigerian in particular, must be involved in the quest to
protect the culture and heritage belonging to them.
"If we (government, followers and leaders) do not something
to arrest the decline in the respect and protection, then we will be failing
because we owe a duty to this society to preserve our culture, to protect it
and ensure that the identity, the commonality that binds the individual
elements of our society, are preserved for generations unborn," Shyllon said.
He added that "Otherwise, we are going to end up
neither Chinese nor Indians nor Jews nor Arabs, nor anything.
"We would be enslaved mentally, because this is
another level of enslavement that is coming. When you don't have an identity,
you don't have self-respect, you don't have recognition, then you lose your
self-worth and that is the fear I have."
According to him, rather than just lament in pity
about the situation, people can become supportive toward rebuilding the
confidence of being African or Nigerian by patronising indigenous Nigerian art
works and identifying with things that hold and express the culture like
dressing, among other things.
He said: "That is why some of us are supporting arts
though private collection, promoting discuss on culture, engaging in publishing
books, assisting artists, scholars and exposing Nigerian arts and culture to
the world through various grants and workshops."