Fifteen
talented young girls who had been participants at various technology

workshops and camps, took part in the 2014
Girls In ICT Day, organised

by the Women
Technology Empowerment Centre –W.TEC, at the Learautes College Mafoluku Oshodi
Lagos,.
What
is Girls In ICT Day?
The International Girls' in ICT Day is an initiative
backed by ITU Member States in

ITU

to create a global environment that empowers
and encourages girls and young women to consider careers in the growing field
of information and communication technologies (ICTs). International Girls in
ICT Day is celebrated on the 4th Thursday in April every year.
What is Girls in ICT Day event?
These are events where young girls and university
students are invited to spend the day at the office of ICT companies and
government agencies so they better understand the opportunities the ICT sector
holds for their future.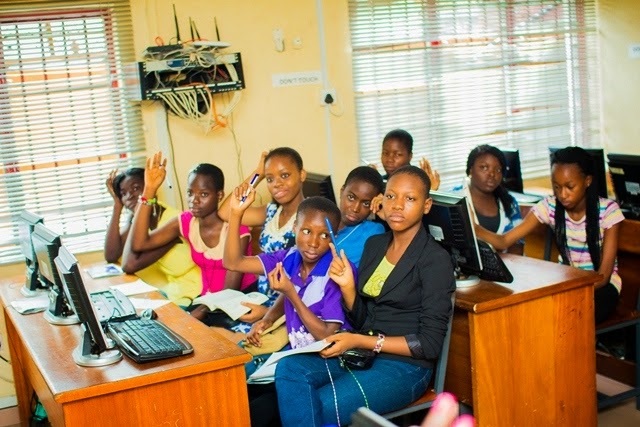 Ministries of ICT, Education, Labour, Youth, National
ICT Regulatory Authorities, ICT companies, academic institutions, relevant UN
agencies, NGOs and other stakeholders are encouraged to organise Girls in ICT
day events on 24 April 2014.
The ITU Secretary General invites all ITU Member States
and Sector Members to organise events

attracting

as many girls and young women as
possible.
Futher
to this effect, W.TEC organised a Hackerthon to support this movement for
participants of its various past workshops and camps to compete in groups to
produce tech products of what they have been taught at their programmes.
The program was set in a competitive format
where the girls worked in groups to produce Blogs, Scratch video games, Mobile
Application which they subsequently presented to the gathering after the
program for which they rewarded with interesting gifts.
The 15 participants ages ranged from 11 – 16 of both private and public
schools. The Tech products produced by the girls some were standard and
presentable.
The W-TEC Hackerthon which was used to also test the capability of all that
the girls had been

taught indicated that the girls have a good
Tech future potential.