MARAN visits Atunda-Olu School for children with special needs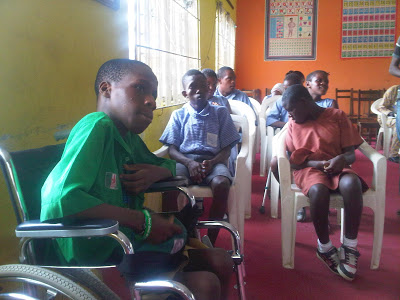 Some of the  children at Atunda-Olu School, Lagos
As a remarkable part of its 25th anniversary activities, members of the Maritime Reporters Association of Nigeria (MARAN) on December 11 visited the Atunda-Olu School for physically and mentally challenged children, located in Surulere, Lagos.
It was a moment of joy for the children and their wonderful care-givers; yet, it was one moment of strong emotions for the visitors who could only imagine the selfless sacrifice of the administrators and care-givers in order to keep the children going for each new day.
According to the school principal, Mrs Folashade Michael, the school was founded in 1968 by the Anglican Church.

 

Starting with just 10 children who basically had physical challenges due to polio, the population continued to grow as it presently has over 100 children.
MARAN President, Mr Bolaji Akinola, receiving a certificate of appreciation from the school principal, Mrs Michael.
                                                Craft session for making Adire material
By the year 1980, 12 years after the school was established, the Lagos State Government took over ownership and administration of the school. It has continued to maintain the care and learning teaching standard of the school.
Mrs Michael however added that the school has continued to enjoy goodwill from different groups and individuals who extend their hands of friendship to the school.
Caring for the children involves a chain of activities; academic work, a routine of physiotherapy sessions to help them maintain physical balance, swimming and games. The school says the parents are often requested to be present at the physiotherapy sessions so that they can help the children at home.
Teaching models to help the children understand road signs
The children receive regular medical care by a volunteer medical doctor who has been a friend of the house for well over 40 years! It also has a nurse in-house who manages the sick-bay.
The children enjoy the craft classes where they are taught how to make the traditional tie and dye (Adire), detergents, footwear, cane works.
The school appreciates friends who take time out to visit the children to give them a sense of belonging in society.