Professor Ulf Klausenitzer on the violin, Manami Sano on the piano & Maestro Thomas Kanitz on the Cello
Ayo Bankole Jnr. on the grand piano & MaestroThomas Kanitz on the Cello
Strings and keys brought
together classical music lovers at the MUSON Classical Concert on recently when
Etisalat Nigeria sponsored the exclusive event, as part of MUSON Music Festival,
held at the MUSON Centre, Onikan, Lagos.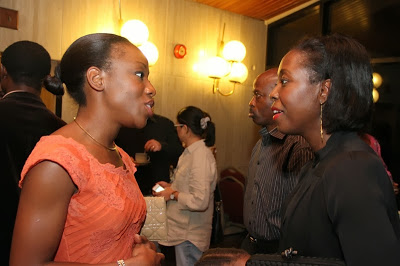 Ebi Atawodi & Brama Shagaya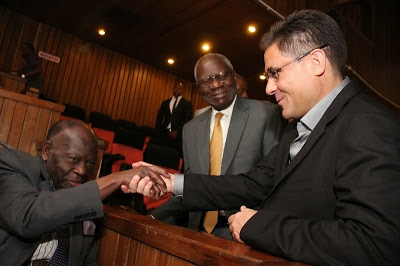 Akintola Williams (OFR), Gboyega Banjo & Mathew Willsher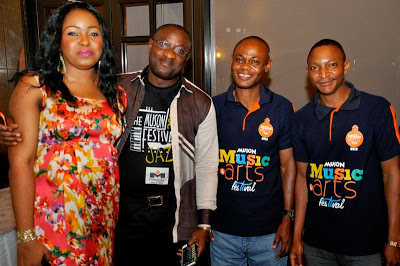 The 10-day annual Festival,
which began on Oct. 17 also lit the Centre with jazz, drama and dance,
coinciding with the Centre's 30th anniversary on Oct. 25th.
Breath-taking
performances were delivered by two guest artistes from Germany; Professor Ulf
Klausenitzer on the violin and Ms. Manami Sano on the piano, who both performed
alongside MUSON Artistic Director, Maestro Thomas Kanitz, on the Cello.
The
classical night also featured a selection of African classical works. A star
performance by Nigeria's renowned pianist, Ayo Bankole Jnr., received an
ovation for Yoruba folk songs astonishingly rendered from a grand piano.
Chief Commercial Officer,
Etisalat Nigeria, Mathew Willsher, said the telco was proud to support the
incredible work being done by the Musical Society of Nigeria (MUSON).
He said,
"
At Etisalat, it is a priority
for us to support the arts and culture. It is our way of sharing the passion of
our subscribers and supporting causes such as this one, which make an impact in
the classical music community."