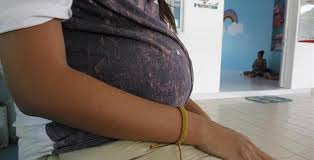 Photo Credit: Google Images
Woman Daily™ is
our diary. Share your views and experiences on all issues.

A
pregnant teenager approached me yesterday evening as I hurried down the road on
Ogunlana Drive. She appeared shy as she virtually covered her face with her
right hand. But the pain in her eyes explained why she summed up the courage to
talk to me. "Mummy, please I need your help," she said.
She
looked untidy and tired, securing some squeezed naira notes in her left hand,
obviously the money she had been able to collect from people who pitied her
plight.

I was short of words and all I
could do was just stare at her as she managed to piece her story together.
As
a mother, I knew she needed beyond just some money. I asked her series of
questions in a rush; I needed to know who was responsible for her pregnancy,
where her parents were and with whom she was living.
Before
answering any of my questions, she apologized for allowing herself to be in
that condition. She said she did not know that she could become pregnant
because no one told her and that it became too late for her to get an abortion
when she realized that she was pregnant.
She
said she had lost her father some years back and her mother now lives in
Abeokuta with her new husband, so she couldn't be accommodated in her house. As
a matter of fact, her mother is not aware of where she lives with a friend who
has decided to accommodate her for now.
She
told me how she could not write the last high school certificate examination
because of the pregnancy. Now, the 18-year-old is wandering on the streets of
Surulere looking for how to get some money. She needs to pay for the delivery
of her baby by the first week of September, hoping that any of the Mother and
Child health centre in Lagos will give her care.
I
thought it was a complicated plight and would need an intervention from any of
the Non-governmental Organisations that are concerned with issues as this.
While I await a reply from any of the organizations, you can guess what my
fears are; how would she locate the young man who got her pregnant? , for how
long more would she be accommodated by a friend?, and what would become of her
future after the child is born?
This
takes me to the issues that need critical attention.

We cannot run away from who and what is to be
blamed. It could be as a result of neglect on the part of her mother, who upon
her new marriage may have decided to care less about her. And the ripples
effect of neglect and possibly, hunger, may have led her into the net of a man
who decided to take advantage of her situation.
This
teenager may have been hungry for love and relevance among people, and coupled
with lack of basic needs, walked into the danger of sexual misbehavior.
Educating
the youths to help them make informed choices cannot be over-flogged because every
youth needs adequate and regular information to help them develop and drive
their vision. It is only then that the nation will be hopeful of a befitting
future.