Director, Consumer Segment, Etisalat Nigeria, Oluwole Rawa (left) and Director, Retail Sales, Etisalat Nigeria, Charles Ogunwuyi (right) presenting a brand new Mercedes Benz SUV to the first monthly draw winner of the ongoing Etisalat/FC Barcelona Promo, Stephen Ubah from Imo State, during the first monthly prize presentations held at the Etisalat Nigeria office in Ikoyi on Thursday, 25th July, 2013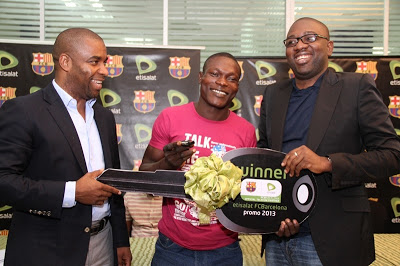 Charles Ogunwuyi (left) and Oluwole Rawa (right) presenting the keys to a brand new Mercedes Benz SUV to the first monthly draw winner of the ongoing Etisalat/FC Barcelona Promo, Stephen Ubah from Imo State, at the Etisalat Nigeria office in Ikoyi on Thursday, 25th July, 2013

Director, Retail Sales, Etisalat Nigeria, Charles Ogunwuyi (left) and Head, Events and Sponsorship, Etisalat Nigeria, Modupe Thani (right) presenting a N500,000 cheque to Fagbile Ibikunle,one of the five daily draw winners, in the ongoing Etisalat/FC Barcelona Promo, during the first monthly prize presentations held at the Etisalat Nigeria office in Ikoyi on Thursday, 25th July, 2013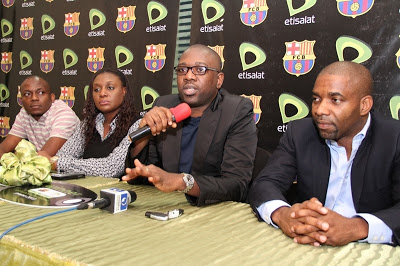 L – R: Head, Sales and Distribution, Oluwatosin Olulana; Head, Events and Sponsorship, Modupe Thani; Director, Consumer Segment, Oluwole Rawa and Director, Retail Sales, Charles Ogunwuyi, all of Etisalat Nigeria at the first monthly prize presentations of the ongoing Etisalat/FC Barcelona Promo, held at the Etisalat Nigeria office in Ikoyi on Thursday, 25th July, 2013.
Customers have started winning big in Etisalat/FC Barcelona Promotion which kicked off on June 17, 2013.
Amidst cheers and excitement, the fist lucky winner of a Mercedes Benz SUV in the monthly draw category, as well as five other winners of the daily draws for N500, 000 prize was presented with his prize on Thursday at the Etisalat office in Ikoyi Lagos.
The car winner, 26-year-old Ubah Steven, an auto mechanic who hails from Imo State, but lives and works in Nasarawa State, shared his experience of how he won.
"I became very interested in the Etisalat promo because they always treat their customers well. So I started making my entries until I got about 300 points.
"When I received the call that I have won, I was in shock. When I received the call a second time, I knew it was real but I was still shocked to be named the winner of the car," he said.
On the daily draws category, five lucky winners including 78-year-old Ibikunle Fagbile, Dandy Odionye, Kingdom Olukutu, Edafe Yarhere and Chinakwe Nikki smiled home with a N500, 000 (five hundred thousand naira) cash prize each.
Speaking on the promo, the Director, Consumer Segment, Etisalat Nigeria, Mr Oluwole Rawa, said that the promo was meant to appreciate their customers as designed in three categories including; the daily draws, the monthly draws and a grand finale draw.
Rawa describes the 2013 promo as bigger than that of 2012 because 180 customers will win cash prizes against the 90 winners in 2012. And while Range Rovers were given to the car winners in 2012, three lucky winners will become proud owners of Mercedes Benz cars each in the 2013 on-going promo.
For the category that will take winners to Barcelona, Rawa says Etisalat is alive to its promise to have 10 lucky customers enjoy the trip prize.
"For this promo, 180 lucky customers will go home with N500, 000 each; and 10 other lucky customers will go to Barcelona, besides the winners of the cars."