The Biodun Omolayo Art Gallery  which was opened on December 15th, 2012, at The City Mall Lagos, makes it an  exciting addition  to the number of art exhibition halls in Lagos.
The art exhibition hall is strategically situated on the 2nd floor of the mall, where the Cinema, the Swe Bar, and the Magnolia Hall

 

are.
The large exhibition hall was opened with a group exhibition tagged "REMOVING THE VEIL" where the works of Deola Balogun, Olotu Oyerinde, Vero Ekpei, Bede Umeh, Soji Yoloye, Kehinde Osho, Juliet Maja-Pearse, Abdulrasaq Ahmed, Joseph Ezeh, Francis Denedo, Adulkareem Fatai, Christopher Alkali, Mathew Adedoyin, and Biodun Omolayo featured.
The collection of works on display totaled 20 sculptural pieces and 47 paintings.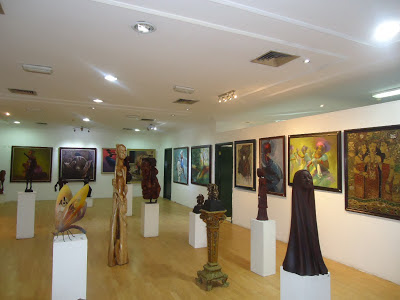 Engr. Omoba Yemisi Adedoyin Shyllon (OYASAF), an art  patron of note, was the first collector to arrive at the opening while Mr Sammy Olagbaju (VASON Chairman), Engr.& Mrs. C A Aladewolu (Chairman, TECO GROUP), Pastor Seyi Oladimeli (C.E.O of Church Management Consult),Zaki Azee and other dignitaries also graced the opening of the exhibition.
                                                 Removing The Veil, By AbdulRasaq Ahmed
The exhibition is still running till this weekend, giving a great opportunity to people for viewing the collection of works on display.                                               
After the exhibition, other artists are expected to have regular shows at the venue.

The City Mall Art Exhibition Hall will also host the popular YOUNG AT ART CHILDREN ART WORKSHOP that is organised regularly round the year by

 

Biodun Omolayo.