A large part of the rich cultural heritage of the Onitsha people of South Eastern Nigeria is 
embedded in their art and craft. They have good authority in sculpting and sophisticated traditional
paintings. For them, it is a way of life
through which they continue to document their history.
In showcasing his exhibition titled
Ambivalence
in NIMBUS gallery, Lagos, Emmah Mbanefo, an Onitsha son, used his collection of paintings and sculptural pieces to bear in its totality, the essence of Onitsha culture and tradition.
Mbanefo simply shows through his works that he has been at the ancestral learning school of his Onitsha stock, which he shares with some masters of the arts like
late Ben Enwonwu and Osaloka Osadebe, and has held on to his natural mold of the environment within which he was born and raised.
                                 His Majesty Achebe, talking on the importance of arts sustainability
    

The exhibits on display are eye-catching and soul-satisfying. The life-size works show every detail, leaving the art lover with a sense of satisfaction.

 

Call it bright and beautiful, and you will be true to how much mastery of colour blend and technical application that Mbanefo has put into his works to capture real aesthetic values.
    

The deeper and unique qualities of the works are found in their origins and how well they pass across messages that the people understand and appreciate.

 
     In 'Ambivalence' Mbanefo starts this uniqueness with the titles of the works. He has done this on purpose to engage fellow Igbos on a platform that they equally know, likewise engaging non-Igbos, helping them find understanding of the priceless worth embedded in Igbo cultural heritage.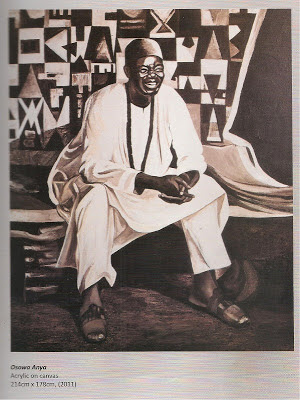 From such titles as Agbogidi, Nze Amaka, Mbanefo tells imperial stories. The Igbo culture holds the traditional ruler in high regard and he has crafted this masterfully

 

to the

 

appreciation of all. No 'make believe' in all of this, because they are realities as known to the artist.

 
    

From traditional African folklores to contemporary realities, Igbos reverence mothers. Yes, it is a fact and Mbanefo has done well to make a good mark about mothers and motherhood with some of his creations. In Nne, Oma, Nwanneka and Omumu, he creates nostalgia about mothers and the warmth and life that come with their being.

 

He is able to share the importance that is attached to maternal relationships and all the light that mothers bring into families through their strength to nurture.
     

One beauty about works of art remains the fact that they appeal differently to individual art appreciators and allow for personal interpretation. One of the works in the collection titled

 

Nwa Ugo, expressly showcase the artist

 

as the 'preacher' of good values. He saw the value of purity and has through his art work shared it with everyone who will come in contact with this piece of art.
     

Manefo's choice of waiting for over two decades before coming up with a solo exhibition was informed by his belief in the power of foundation for things to take their forms. He puts it subtly that: "Ambivalence is premised on the understanding that in everything there is a foundation, which is predetermined and beyond control. However, that singular foundation is challenged, pushed and pulled as we fight to define ourselves." After all, life itself is art shaped into forms through several sub-conscious activities and other conscious efforts, tucked into positions as people want them to be.
    

Mbanefo wants artists to have commercial consciousness for reason of sustainability. He said: "For arts
to be sustained, the artist must learn to put into great consideration how best he can showcase the commercial worth of any art piece, to enable him have financial resources to manage a business in his profession as an artist."

 

 

 

 
   

Creative director of NIMBUS Art Gallery, Lagos, Chike Nwagbogu, described Ambivalence

 

as one of such collections that define

 

'Africa's tomorrow' because, they are documentations of the people's history of civilization.